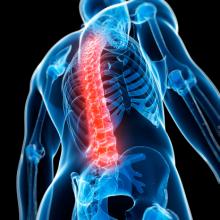 Helping Spinal Cord Patients Breathe on Their Own
Diaphragm pacing, a system that gained nationwide attention when Raymond Onders, MD of University Hospitals Case Medical Center in Clevelandimplanted the stimulator in actor Christopher Reeve, has now been shown to be successful not only in weaning patients from mechanical ventilators but also in bridging patients to independent respiration. The study, done at the center, was published in the Journal of Trauma and Acute Care Surgery.
A release from the center explains that the Diaphragm Pacing System (DPS) provides electrical stimulation to nerves running through the diaphragm, the major muscle involved in breathing. When stimulated, the diaphragm contracts and allows patients to breathe more naturally than if air were forced into their lungs via a mechanical ventilator. The system is implanted through minimally invasive laparoscopic surgery.
The new study examined the records of 29 patients at 16 hospitals in the United States where DP implantation is approved. SCIs were caused by a variety of accidents, including car accidents, diving, gunshot wounds, falls, and athletic injuries. Elapsed time from injury to surgery was 40 days, which was considerably shorter than an initial FDA trial in which patients did not have DP testing and surgery for more than a year after injury. All but two patients were men. A goal of this study was to determine if earlier testing and DP implants provided benefit.
Of the patients whose diaphragm muscles responded to stimulation, 16 of 22 patients (72 percent) were completely free of ventilator support in an average of 10 days. Of the remaining six patients, two had a delayed weaning of six months, three had partial weans using DP at times during the day. One patient successfully implanted went to a long-term acute care hospital and subsequently had life-prolonging measures withdrawn. Seven of the 29 patients were found to have non-stimulatable diaphragms because of nerve damage. Eight patients (36 percent) had complete recovery of respiration, and DP wires were removed.
Pages: 1 2