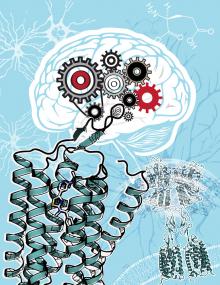 Hope for TX for Brain Disorders & Pain Issues
Researchers at The Scripps Research Institute in La Jolla, CA and at Vanderbilt University in Nashville, TN have created the most detailed 3-D picture yet of a membrane protein that is linked to learning, memory, anxiety, pain, and brain disorders such as schizophrenia, Parkinson's, Alzheimer's, and autism. The research, which focuses on the mGlu1 receptor, was reported in the March 6th, 2014 issue of the journal Science.
A release from Scripps quotes senior author P. Jeffrey Conn, PhD as saying, "This receptor family is an exciting new target for future medicines for treatment of brain disorders. This new understanding of how drug-like molecules engage the receptor at an atomic level promises to have a major impact on new drug discovery efforts."
A Family of Drug Targets
The mGlu1 receptor, which helps regulate the neurotransmitter glutamate, belongs to a superfamily of molecules known as G protein-coupled receptors (GPCRs).
GPCRs sit in the cell membrane and sense various molecules outside the cell, including odors, hormones, neurotransmitters and light. After binding these molecules, GPCRs trigger a specific response inside the cell. More than one-third of therapeutic drugs target GPCRs—including allergy and heart medications, drugs that target the central nervous system and anti-depressants.
The Stevens lab's work has revolved around determining the structure and function of GPCRs. GPCRs are not well understood and many fundamental breakthroughs are now occurring due to the understanding of GPCRs as complex machines, carefully regulated by cholesterol and sodium.
When the Stevens group decided to pursue the structure of mGlu1 and other key members of the mGlu family, it was natural the scientists reached out to the researchers at Vanderbilt. "They are the best in the world at understanding mGlu receptors," said Stevens. "By collaborating with experts in specific receptor subfamilies, we can reach our goal of understanding the human GPCR superfamily and how GPCRs control human cell signaling."
Colleen Niswender, PhD, director of Molecular Pharmacology and research associate professor of Pharmacology at the Vanderbilt Center for Neuroscience Drug Discovery, also thought the collaboration made sense. "This work leveraged the unique strengths of the Vanderbilt and Scripps teams in applying structural biology, molecular modeling, allosteric modulator pharmacology and structure-activity relationships to validate the receptor structure," she said.
The Challenge of the Unknown
mGlu1 was a particularly challenging research topic.