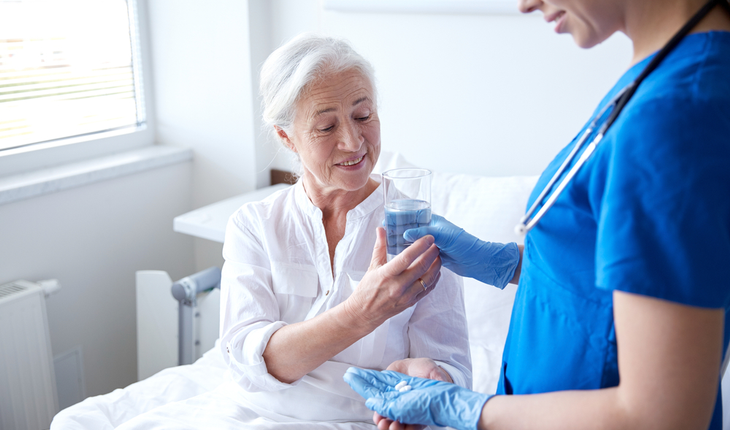 Pain Management
Hospitalized Seniors Resist Medical Marijuana, but Opiates Prescribed for Nonsurgical Conditions Result in Poor Outcomes
In one of the first studies of its kind, nearly one-third of 10,000 older adults were prescribed opiate pain medications such as morphine, Percocet and OxyContin while hospitalized for non-surgical conditions. This course of care was significantly linked to poor outcomes such as being restrained and requiring bladder catheterization, according to research done in May 2017 by physicians at Northwell Health in New Hyde Park, NY.
A release from Northwell notes that the study, "Opiate Prescribing in Hospitalized Older Adults: Patterns and Outcomes," is one of a pair focusing on pain management in older adults presentated at the American Geriatrics Society Meeting in San Antonio, TX from May 18-20. With legislation in recent years governing prescription drug monitoring and the use of medical marijuana in New York State, Northwell investigators Sutapa Maiti, MD, Liron Sinvani, MD, and Gisele Wolf-Klein, MD, joined colleagues to spotlight perspectives and practices influencing these timely and contentious topics.
The investigators agree that alternative pain management options should be integrated into the inpatient setting, including acupuncture, tai chi, heat therapy, and exercise tailored to patients' needs, among others.
The release quotes Dr. Wolf-Klein, director of geriatric education for Northwell Health, as saying, "With older adults, both physicians as well as patients understand they'll probably be living with chronic conditions such as congestive heart failure, arthritis or COPD for the rest of their lives, but what they really don't want is the pain associated with these conditions, This is all about quality of life. Patients' lives may be challenged by illness, but pain is something that we as physicians have a huge responsibility to manage properly."
Dr. Wolf-Klein is senior investigator of the second study, "Older Adults' Perspectives on Medical Marijuana Use," which found that 36 percent of seniors would be unlikely or extremely unlikely to use medical marijuana if prescribed. This reluctance exists despite 25 percent of the 93 study respondents reporting chronic pain and 43 percent using prescription painkillers in the prior month.
Legislation enacted in recent years pertaining to pain management lent particular context to the research led by Dr. Wolf-Klein and Dr. Maiti, the first author of the opiate study and chief palliative fellow at Northwell Health. As of December 2015, 49 states initiated mandated legislation by the federal Centers for Medicare and Medicaid Services (CMS) on Prescription Drug Monitoring Programs, statewide electronic databases that collect prescription-dispensing data of controlled substances.