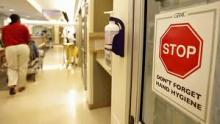 Hospitals Don't Follow Infection Prevention Rules
The most comprehensive review of infection control efforts at U.S. hospitals in more than three decades found lax compliance even in intensive care units where patients are more likely to be treated with devices linked to preventable infections – such as central lines, urinary catheters and ventilators. That is the finding of research done at Columbia University School of Nursing and published in the American Journal of Infection Control.
A release from the university explains that the team led by Patricia Stone, PhD, MPH, RN, FAAN investigated compliance with evidence-based policies to prevent infection in 1,653 ICUs at 975 hospitals nationwide. The study focused on three of the most common preventable infections – central line-associated bloodstream infections, ventilator-associated pneumonia, and catheter-associated urinary tract infections. Despite decades of research establishing best practices for prevention of these infections, approximately one in 10 hospitals lack checklists to prevent bloodstream infections, and one in four lack checklists to help avoid pneumonia in ventilator patients. Even worse, these checklists are followed only about half of the time, the study found.
The release quotes Stone as saying, "Hospitals aren't following the rules they put in place themselves to keep patients safe. Rules don't keep patients from dying unless they're enforced."
Health care-associated infections kill an estimated 100,000 Americans a year and create approximately $33 billion in excess medical costs. The U.S. Centers for Disease Control and Prevention first linked infection rates to prevention programs in the 1970s. Research since then has shown that checklists and other targeted infection control practices can make a significant dent in infection rates – but only if compliance rates among clinicians are also high.
Compliance could be improved with two solutions most hospitals aren't using – electronic monitoring systems and staff certified in infection control. The study found that only about one-third of the ICUs have an electronic surveillance system to track compliance with infection-prevention policies at the clinician level. Electronic monitoring systems that offer report cards on compliance have been proven effective at getting clinicians to follow the rules, lowering infection rates, previous research has found. At the same time, more than one-third of hospitals also failed to employ a full-time clinician certified in infection prevention to supervise compliance, the study found.
"Every hospital should see this research as a call to action – it's just unconscionable that we're not doing every single thing we can, every day, for every patient, to avoid preventable infections," Stone says.
Pages: 1 2