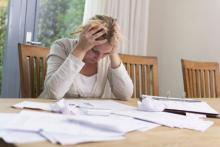 Caregiving
How to Avoid Financial Ruin as a Caregiver
A shrinking middle class, medical expenses at an all-time high and a caregiver shortage: it's the perfect cocktail for financial ruin. And now a new study from researchers with the Faculty of Social Work at the University of Calgary in Alberta, Canada has found that women in particular are more susceptible to going bankrupt when caring for an elderly parent.
The objective of the study was to examine "the relationship between caring for older parents and the financial well-being of caregivers by investigating whether a…vicious cycle exists between female caregiver's lower household incomes and caring for elderly parents."
Interestingly, the researchers found financial disparity between caregiver and non-caregivers was present even before taking on the decision to care for an aging parent. Women with more financial resources can afford more healthcare options for their parents allowing them the ability to pay for caregiving services so they don't have to miss days of work. Lower income women, on the other hand, have no choice but to bear the burden of taking on the role of sole caregiver to a loved one, which ultimately leads to time missed at work and major financial strain.
The study's lead researcher, Yeonjung Lee, told Reuters Health that they "looked at the relationship among parental caregiving, labor force participation and financial wellbeing," and, unlike past research done on the subject that only focused on one point in time, this study used the results of 2006, 2008 and 2010 reports from the U.S. Health and Retirement Survey to help provide a more in-depth picture of the financial scope of caregiving over time.
Based on their findings, Lee said, "Taking care of parents led to negative outcome in their financial status, but it also went the opposite direction.  People who had less household income and less financial resources were more likely to take care of their parents so there is this cycle that they cannot get out of – they are poor, then taking care of parents, then being poor and taking care of their parents – there's this kind of cycle."
So how can Caregivers break out of this cycle of financial strain?
Health Savings Accounts.These tax-deductible savings accounts (also called HSA's for short) were established in 2003 as part of the Medicare Prescription Drug, Improvement, and Modernization Act in an effort to help people who are enrolled in high-deductible insurance plans. Unlike Flexible Spending Accounts, the funds you put into an HSA will roll over year after year if the money is not spent.  Most banks offer HSA accounts, so check with your existing bank about how to sign up with one before doing a general Google search.
Pages: 1 2