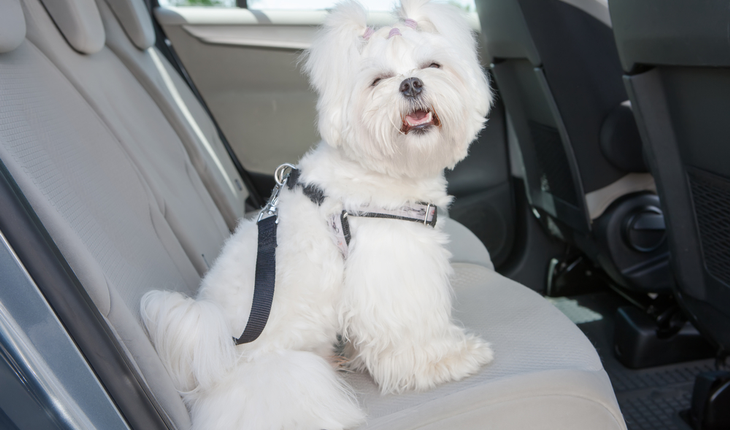 Pets
How to Safely Drive with a Pet in Your Car
Just a few decades ago, it was considered perfectly acceptable for adults to travel in cars without wearing seat belts and for young kids to ride without the safety and support of car seats. These days, we have access to better information and safer technology, and we wouldn't dream of putting ourselves or our loved ones behind the wheel without employing certain passive restraint systems. However, there are still many drivers out there who don't give their treasured animal companions the benefit of proper restraints when traveling with them by car.
According to the American Veterinary Medical Association (AVMA), it's essential to keep your pet restrained during automotive travel. A pet that isn't properly secured in your vehicle is more likely to suffer injury if you have an accident. An unrestrained pet can negatively impact the safety of your other passengers as well, since a sudden stop or swerve can turn the animal into a dangerous projectile. And a roaming pet can be a hazard to the driver, increasing your chances of being distracted on the road.
Here are some guidelines to consider when it comes to safely driving with your pet in your car:
Consider the size of your pet when deciding on a restraint system. The best choice for a small dog is a crate or a travel-safe dog bed. Larger dogs are best served by a harness that is attached to the vehicle's seat belts. If you're traveling with a cat, it's best to place the feline in a carrier.
Do your research when picking a harness, crate or pet carrier. A harness, crate or pet carrier can keep your pet safe when traveling, but not all products are created equal. The Center for Pet Safety (CPS) is a non-profit research and advocacy organization dedicated to providing guidance around the safest and most effective products for pets. The CPS conducted crash-test evaluations on a number of popular harnesses, crates and pet carriers, and found that many products missed the mark when it comes to crash protection. The Sleepypod Clickit Sport is the only safety harness that scored highly enough to be crash-test certified by the CPS. The only pet travel carrier to achieve this designation is the Sleepypod Carrier, and the only travel crate to get the stamp of approval from the CPS is the Gunner Kennel G1 Intermediate with Strength-Rated Anchor Straps.
Avoid transporting your pet in the back of a truck. A truck bed isn't the safest place for pets, and sudden maneuvers can launch them from the vehicle. If your pet must ride in a truck bed, make sure the animal is placed in a protective kennel that is securely attached to the truck. A car with a roomier interior, with enough space for a crate or restraint system, is advised. If you frequently drive with your pet and are looking for a new car, consider its spatial limitations, just as you would for your kids.
Pages: 1 2