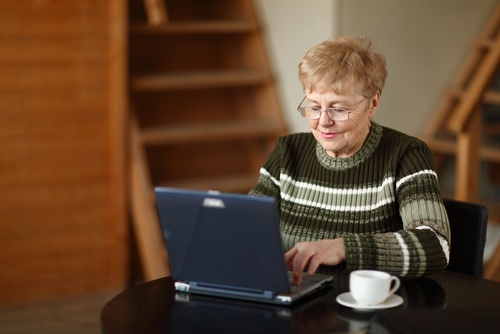 How to Stay Independent while Living Alone
We all want to stay independent as we grow older, and that goal may be significantly more challenging if we live alone. Sometimes, though, people are reluctant to accept any form of help, seeing that in itself as a loss of independence. But that view isn't helpful.
"The misconception is that any acceptance of help is somehow the beginning of a slippery slope into dependence and losing control of your life," Barbara Moscowitz, a geriatric social worker at Harvard-affiliated Massachusetts General Hospital, said in an article in the Harvard Healthbeat newsletter.  "We need to reframe what will help us remain independent and accept the tools to help us. Make a choice to enhance your ability to live alone. See assets and positives, not signs of weakness."
Here are some tips on what you need to do to maintain your independence while living by yourself:
Make it safe
You'll need a safety alert button, a waterproof device you wear as a pendant or on your wrist that alerts 911 at the touch of a button. "This device must stay on your body 24 hours a day," Moscowitz said in the newsletter. "It won't do any good on your nightstand if you've fallen in the shower."
According to Harvard, prices can be from $25 to $50 monthly, and your best bet is a device that doesn't require a contract (you pay monthly instead) and has no start-up fee.
You should also have an emergency supply of food, water, and whatever else you need (batteries, flashlights, LED candles) that will last you three days in case of a power outage, blizzard or when you can't get to a store.  Moscowitz also recommends refilling prescriptions so you will have a week's supply.remaining.
Stay social
Keeping in contact with others is as important as taking care of your health, the Harvard article says. Not that you have to go to a party every week, but you should be in daily contact with at least one person, even if only briefly, and leave your house at least once a week, Moscowitz says. "Any less could have a negative impact on your health and well-being."
Some of her suggestions: a daily phone call with a friend or family; that can act as a safety check as well as stimulating "your social juices." You might also want to join a church or synagogue group, a senior center, or work as a volunteer for a cause you like.
Use services
If you've become unable to drive or manage activities like cleaning or shopping, there are services available to help. Some can be as simple as using grocery stores and restaurants that deliver. Other options include local and affordable or free rides to take seniors to the grocery store or the doctor. Errand services might also be a possibility.
Pages: 1 2