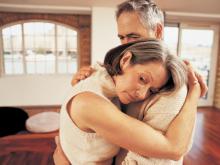 How You Can Help a Spouse With Cancer
By Nurse Practitioner Jamie Kabat, BSN, MSN, CNP and Clinical Nurse Specialist Josette Snyder, RN, MSN, AOCN
One of the most frequent – and touching – questions we get on the Cleveland Clinic's Cancer Answer Line is from people whose spouses or partners have been newly diagnosed with cancer. They want to know how they can help and support their spouses through this life-changing diagnosis and the ensuing treatment.
If this is you, you may feel completely unprepared to help your spouse or partner. But know that you are in a position to make an enormous impact on your spouse's experience of treatment and recovery. It may feel like an immense responsibility, but it also is a tremendous opportunity to support and safeguard your loved one as much as possible.
Also know that people often tell us that caring for someone who is seriously ill is a deeply profound, gratifying, and emotionally intimate experience, one that can strengthen your relationship and bring you closer.
Here are some suggestions for how you can help your spouse or partner move through a cancer diagnosis and treatment:
Communicate from the very start and throughout the entire experience. Often, we don't ask people what they need or want. At the same time, we don't express what we need either.
Make a pact with your spouse or partner. Say you will do your best to always be honest and open, and ask for the same in return. Agreeing at the beginning to communicate openly sets the stage for both of you to feel more comfortable sharing your feelings in the future.
Don't be afraid to show your feelings. Communicate that you are scared as well.
Help your spouse or partner get over the initial shock of a cancer diagnosis. Consider putting other plans on hold while you both process what's happening. You may want to spend time alone together to talk about your feelings and to make some decisions. Ask: How can I help you without taking away from you.
During this time you could plan for childcare, finances, time off from work or household duties. Offers to help will come in from friends and family. Brainstorm about how to use this social network so you and your spouse can focus on treatment. Roles will alter. You may have to do some things you didn't do before. Be sure to cut yourself some slack on that.
Another important initial topic for discussion is how to communicate the diagnosis and other news to family, friends and, possibly, co-workers. Some cancer patients find it stressful to break the news or talk about their illness to all but their closest friends or family members. Ask your spouse or partner if you can help tell the news to others. And volunteer as your spouse's gatekeeper to control the flow of visitors and phone calls. Consider signing up with a resource such as the Caring Bridge, which can serve as an information clearinghouse.
Pages: 1 2