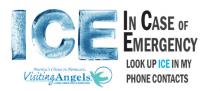 ICE Your Cell Phone for Cold Weather Safety
As frigid temperatures continue to affect every state in the union, Visiting Angels — one of the nation's largest in-home senior care agencies — has launched the ICE a Cell Phone Safety Campaign to help people in case of emergency. ICE stands for In Case of Emergency. To ICE your cell phone or the phone a loved one in your care, load emergency contacts with the word ICE in front of the names so that if you're ever in trouble, people will know who to call. Visiting Angels hopes this will become a universal emergency plan – a quick way for emergency responders to pick up a senior's cell phone, and press the letter 'I' to find emergency contacts.
"We urge families to ICE seniors' phones, or come by our offices and we will ICE seniors' phones for free," says Larry Meigs, CEO of Visiting Angels. "We care for thousands of older Americans, and we constantly hear stories about how families need an emergency plan for seniors. One family told us their elderly loved one with dementia roamed five miles from home. When police tried to help they had no clue who to call. ICE contacts help responders know who to call in emergencies in this cold or at any time of year."
How to ICE Cell Phones:
*Under 'I' in the cell phone contact list, load the In Case of Emergency contact names, beginning with the word ICE (ie: ICE_Heather).
*Make sure the emergency contact(s) agree to be ICE partners.
*Include every phone number (home/cell/work) of the ICE partner.
*ICEpartners should know the seniors' medical conditions, doctors' names, and medications they're taking.
* An ICE sticker can save a life. Place a Visiting Angels' ICE Loaded stickeron seniors' cell phones, so if someone finds a senior in trouble they know who to call in an emergency.
Cold Weather Caregivers
Along with ICE-ing seniors' cell phones, Visiting Angels caregivers come to seniors' homes to protect them from cold weather dangers.
*Older Americans can't feel cold weather shifts the way younger people do and they may suffer from hypothermia without even knowing they're in danger. According to the American Academy of Family Physicians, more than half of all hypothermia-related deaths happen in people over age 65.
Cold Weather Caregivers help seniors with:
*Outdoor Tasks – Caregivers can do outdoor tasks for seniors, such as shovel snow and get the mail. People who are outdoors in cold weather should avoid sudden exertion, like lifting a heavy shovel full of snow. Even walking through heavy, wet snow or snow drifts can strain a person's heart, according to the American Heart Association.
Pages: 1 2