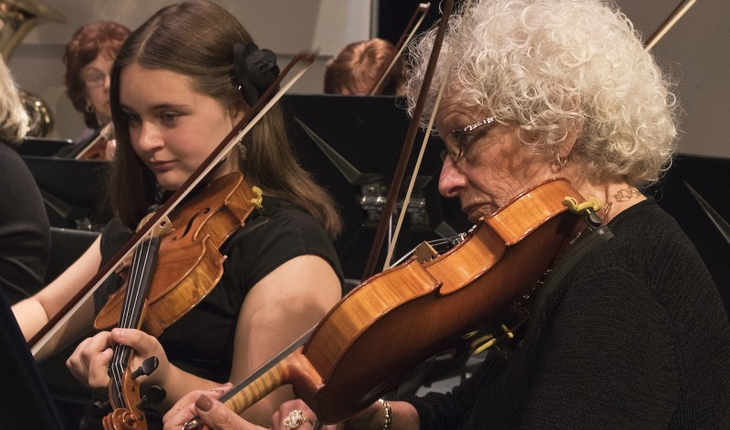 Aging Well
Intergenerational Programming: All Ages Can Benefit
We know that older adults and youngsters get together if they are related to each other, if they are employed at the same workplaces, if they attend the same houses of worship. But would older adults choose to engage in activities with young people who are not their relations? Would youth opt to get together with people who are much older than they are? For many people, the answer is yes. Not only that, but there are benefits to both age groups for bridging the generations even if they are not family members. Still, there are challenges to be met and prejudices to overcome.
I became interested in exploring this topic especially after the success of a series of intergenerational and interfaith activities held by my synagogue and a neighborhood church. Elementary and middle school students got together with senior citizens for volunteering projects. In addition, choral groups and text narrators of various ages attended an annual pre-Thanksgiving Weekend service that was enjoyable, and photographed for local news outlets.
Shared interests can bring together people of various ages. The Thomaston Public Library of Thomaston, Maine runs an "Intergenerational Book Club" that held monthly meetings in 2015; a page on its website lists the books to be read and discussed. The New Jersey Intergenerational Orchestra, meeting in New Providence, held rehearsals, staged performances and even held light-hearted activities such as Pizza Night. An Intergenerational Women's Choir active in Poughkeepsie, New York has performed at a "SingAThon/PlayAThon" at Dutchess Community College. They welcome "women ages 9 through 90+."
Opportunities for volunteering can be found for those interested in intergenerational groups. The Intergenerational Club of Weston High School in Weston, MA involves a group of teenagers meeting with seniors; their webpage shows photographs of the mixed group doing some baking. The Senior Lifestyle, family-owned communities offer a "Connect! Senior Sidekicks" group in which "local students visit the community and join our residents for entertaining senior activities." At Westminster Canterbury in Richmond, VA residents with dementia and without "can interact with the community's child development center a few times a week." A local ABC news outlet ran a story about this program, showing senior residents reading to young children and teaching Spanish conversation skills to a group of kids. The older folk enjoy the interactions, and sharing their talents with younger folk who relish the lessons and the attention lavished upon them.