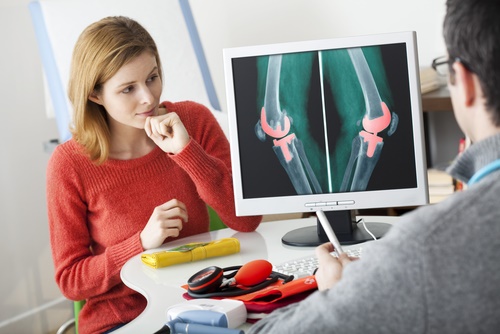 Back Pain
Knee Pain
Is It Time for A Joint Replacement?
According to the experts at Harvard Medical School, the crucial factor in deciding to have a knee or hip replacement is the degree of pain and how much it affects your life. The Harvard experts, authors of Knees and Hips: A Troubleshooting Guide to Knee and Hip Pain, list six signals that it's time to replace a knee or hip:
You can no longer complete routine daily tasks without help.
You have pain that keeps you awake at night despite the use of medications; or pain that keeps you from walking or bending over; pain that isn't relieved by rest or non-surgical approaches.
Your doctor says that simple surgical procedures probably won't help you.
You have osteoarthritis and feel the disease is wearing you down physically, emotionally, and mentally.
You're suffering severe side effects from knee or hip medications.
Tests show advanced arthritis or significant joint damage.
According to the Harvard experts, the right surgeon and hospital can have a significant effect on the success of your operation. In general, they say, you can expect a better result and fewer complications if your surgeon does the operation at least 100 times annually and operates in a hospital where replacements are routinely.
Once you've decided that joint replacement is indicated, the Harvard experts suggest that you ask a prospective surgeon these questions:
Are you board-certified in orthopedic surgery?
Are you fellowship trained?
How often do you perform this surgery?
What kind of results would you expect for someone in my condition?
May I speak with any of your patients who have had this surgery?
What complications occur most frequently, and how do you deal with them?
Do you usually work with a particular physical therapist or rehabilitation center?
For more on strategies for pain-free knees and hips and a special bonus section on knee and hip replacement, buy Knees and Hips: A Troubleshooting Guide to Knee and Hip Pain by Harvard Medical School.