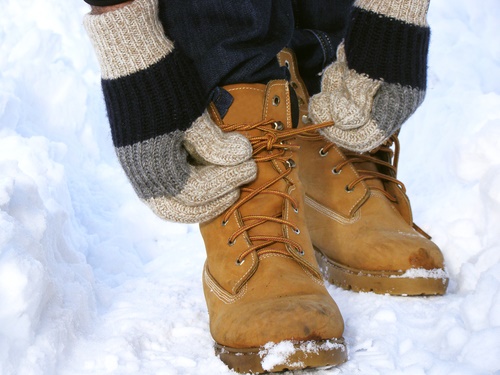 Exercise
Layering Up for Cold-Weather Walks
Weather-related excuses to avoid walking for exercise can be especially frequent during the winter months. Most of us don't want to be out in the cold, but the experts from Harvard Medical School say that if you wear the right clothes and prepare correctly, you can go out in almost any type of weather.
When you're out walking in the cold, the experts say, staying dry is crucial to staying warm. You can stay dry, they say, by dressing in layers. If you remove layers as you warm up, you'll avoid excessive sweating, which can lead to chills later on in the walk.
The Harvard Medical School experts suggest this three-step layering system:
First layer: Choose a light synthetic fabric, such as Cool-Max or polypropylene. This will be closest to your skin. These materials "wick" (pull) sweat away from your skin and allow it to dry quickly.
Second layer: Your insulation. The experts suggest a fleece, sweater or sweatshirt made either of a synthetic such as Polartec or a wool. Look for a fleece, sweater, or sweatshirt made of a synthetic fabric like Polartec, or a wool blend that provides warmth while wicking away moisture. Don't wear cotton, the experts say, because it stays wet. If the weather is extremely (Avoid cotton, because it stays wet.) If the weather is very, very cold, you may want insulating bottoms as well. And in extreme weather, you can consider doubling up on a layer.
Third layer: The top layer directly protects you from wind, rain and snow, the Harvard experts say. Either a waterproof or water-resistant, breathable jacket and pants, such as those made with Gore-Tex, will work well. Make sure the clothing has vents that you can open and close. Additionally, drawstrings at the waist and wrist will keep the cold out.
Finally, be sure to cover your ears, hands and head.
The Harvard experts also stress that you dress for a temperature that is about ten degrees higher than the forecast, because you will be generating your own heat.
To learn more about how to get the most out of your walks, buy Walking for Health, a Special Health Report from Harvard Medical School.