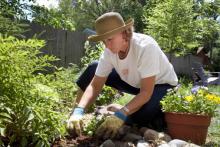 Living Well With Hepatitis C
By Jane Farrell
Hepatitis C, an inflammation of the liver caused by a virus, is a discouraging, debilitating condition. It affects an estimated 3.2 million Americans, according to the federal Centers for Disease Control (CDC).  The illness is usually caused by receiving donated blood that is infected, having had a bad organ transplant, or sharing a needle or having sex with a person who is contaminated with the virus.
More than 75 percent of those infected are Baby Boomers, in part because authorities have been screening for infected blood only since 1992. In fact, experts recommend that anyone born between 1945 and 1965 be screened for the illness, which usually shows no symptoms until it is advanced. (Symptoms include fatigue, jaundice, and dark urine.)
Hepatitis C cases, usually diagnosed through a blood test, range from very mild, which requires only monitoring, to severe, requiring a liver transplant. If you are diagnosed with the illness, know which questions to ask your doctor. For Third Age's advice, see the article "The Right Questions to Ask Your Doctor About Hepatitis C."
Drug treatment, often successful, has been a combination of the antiviral medications peginterferon and ribavirin, as well as a protease inhibitor. In 2013, the Food and Drug Administration (FDA) approved two other drugs, sofosbuvir (Sovaldi) and simeprevir (Olysio) to treat chronic HCV infection. However, controversy has surrounded Sovaldi, billed as a "miracle drug," because of its exorbitant cost of $1,000 per pill.
No matter what treatment you're getting, though, you can live more easily with Hepatitis C if you follow these strategies:
Eat and drink well. Experts, including the nonprofit Hepatitis C Association, emphasize the importance of a healthy diet. Focus on fresh fruits and vegetables as well as protein, which will help you keep up your strength. Good sources of protein include low-fat versions of yogurt and cream cheese. Avoid high-fat foods, sugar and salt, and be sure to keep hydrated. A good eating plan will help you keep up your energy levels. And skip the alcohol. Since hepatitis C affects the liver, it's crucial to avoid anything that can further damage that organ. And it's strictly forbidden during treatment as well as pre- and post-surgery for a transplant.
But don't take a do-it-yourself approach to dietary supplements. The U.S. Department of Veterans Affairs (VA) advises against any vitamins or minerals without talking to your doctor. The agency also cautions against excessive iron intake. Iron can be damaging to your liver. If your iron levels are high, your doctor may ask you to avoid iron-rich foods such as red meats, liver and iron-fortified cereals.
Maintain a healthy weight. The VA says that weighing either too much or too little can affect the course of the illness. Use the federal (Body Mass Index) calculator to see how much you should weigh; click here.