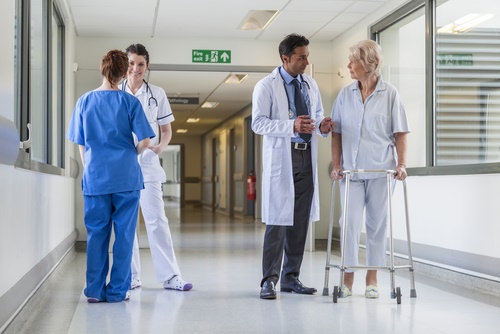 Medical Care
Many Patients Released before Vital Signs Are Stable
Twenty percent of people hospitalized are released before all vital signs are stable, a pattern that's been linked to an increased risk of death and hospital readmission, a new study by UT Southwestern Medical Center researchers shows.
As hospital stays have shortened dramatically over the past 30 years, there is increasing concern that patients are being discharged before all vital signs have stabilized, putting them at risk of adverse events after discharge. However, no studies to date have examined the extent to which patients are discharged with unstable vital signs, and whether this practice is actually associated with higher post-discharge mortality and readmission rates, the researchers said.
"We found that nearly 1 in 5 hospitalized adults is discharged with one or more vital sign instabilities such as an elevated heart rate or low blood pressure," said lead author, Dr. Oanh Nguyen, Assistant Professor of Internal Medicine and Clinical Sciences. "This finding is an important patient safety issue because patients who had vital sign abnormalities on the day of discharge had higher rates of hospital readmission and death within 30 days even after adjusting for many other risk factors."
The researchers assessed electronic medical records (EMR) of 32,835 unique individuals from six Dallas-Fort Worth area hospitals, and noted abnormalities in temperature, heart rate, blood pressure, respiratory rate, and oxygen saturation within 24 hours of discharge. Nearly 20 percent had one or more abnormalities, with elevated heart rate being the most common vital sign instability (affecting about 10 percent). About 13 percent were readmitted or died, and individuals with three or more instabilities had a nearly four-fold increase in the odds of death.
"Our findings, that 'vital signs are still vital' have important implications for the development of national discharge guidelines to improve patient safety for the 35 million individuals being discharged from hospitals in the U.S. annually," said co-lead author, Dr. Anil Makam, Assistant Professor of Internal Medicine and Clinical Sciences.
Pages: 1 2