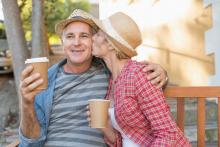 Relationships & Love
Meaningful Relationships Help Us Thrive
Deep and meaningful relationships play a vital role in overall well-being. Past research has shown that individuals with supportive and rewarding relationships have better mental health, higher levels of subjective well-being and lower rates of morbidity and mortality. A paper published in August 2014 in Personality and Social Psychology Review provides an important perspective on thriving through relationships, emphasizes two types of support that relationships provide, and illuminates aspects where further study is necessary.
What is "thriving"?
According to a release from the Society of Personality and Social Psychology Researchers, which publishes the quarterly journal, Brooke Feeney of Carnegie Mellon University and Nancy Collins of University of California at Santa Barbara emphasize the importance of relationships in supporting individuals not only in their ability to cope with stress or adversity, but also in their efforts to learn, grow, explore, achieve goals, cultivate new talents, and find purpose and meaning in life. Relationships can permit a person to thrive, but unfortunately we know relatively little about how relationships promote or hinder thriving.
The researchers explain that thriving involves five components of well-being; hedonic well-being (happiness, life satisfaction), eudaimonic well-being (having purpose and meaning in life, progressing toward meaningful life goals), psychological well-being (positive self-regard, absence of mental health symptoms/disorders), social well-being (deep and meaningful human connections, faith in others and humanity, positive interpersonal expectancies), and physical well-being (healthy weight and activity levels, health status above expected baselines).
Two types of support
People will be most likely to thrive with well-functioning close relationships that serve different support functions – whether the relationship is with friends, parents, siblings, a spouse, or mentors. The review emphasizes two types of support, both serving unique functions in different life contexts. The first important function of relationships is to support thriving through adversity, not only by buffering individuals from negative effects of stress, but also by enabling them to flourish either because of or in spite of their circumstances.
The release quotes lead researcher Brooke Feeney as saying, "Relationships serve an important function of not simply helping people return to baseline, but helping them to thrive by exceeding prior baseline levels of functioning. We refer to this as source of strength (SOS) support, and emphasize that the promotion of thriving through adversity is the core purpose of this support function."