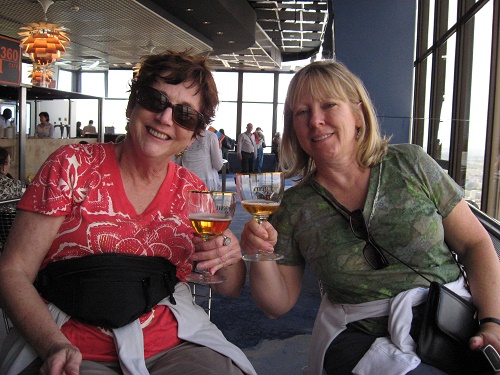 Caregiving
My Sister's Lungs, Part 3: A Primer on Lung Transplants
Editor's Note: In the third part of a five-part series, thirdAGE contributor Nancy Wurtzel (at right in the above photo) shares the ordeal her sister Barbara (at left in the above photo) is undergoing as she waits for a match for a lung transplant. Barbara's situation is complicated by the fact that her husband, Jim, has Alzheimer's. Additionally, the sisters' mother is suffering from dementia as well. Here is the story of a family on a frightening, grueling healthcare journey of the kind that will be all too familiar to millions of Americans. You can read the first installment here and the second installment here. For an article by Nancy on the transplant issue in general, click here.
By Nancy Wurtzel
A  friend recently invited me to attend an upcoming weekend conference.  I reminded her that my older sister, Barbara, is on the lung transplant list at the University of Minnesota, so traveling to a different state wasn't an option.
"I'm Barbara's primary caregiver, and her transplant is my top priority," I explain.
"What's the holdup?" asked my friend, sounding quizzical. "Can't they just set a date and do the surgery?"
"If it were only that easy," I replied.
My friend just doesn't get it, but she's not alone.  Over the past year, I've encountered many people who seem to view organ transplant as a routine procedure, a health blip that can be easily remedied.  When I try to explain the severity of my sister's condition as well as the complexity of transplantation, I sense some people feel I'm exaggerating.
While this frustrates me, I realize most people have no first-hand experience with organ transplant, and what they do know about the subject might not be very accurate.  My friend's knowledge could easily be based on a movie, a television show, a novel or headlines in the media, all of which might portray transplant as a run-of-the-mill occurrence.
Transplant reality is a different story.
While it's true that organ transplant has become more common in recent years, it is still considered a major, risky surgery, and life after transplant is no cakewalk.
I know this because over the past 18 months, Barbara and I have become semi-experts on lung transplants, absorbing more information than we ever wanted to know.  We've learned a transplant is only considered as a last resort for those with end-stage lung disease.  Sadly, my sister falls into this category.
The good news is that modern medicine has come a long way since the first lung transplant took place at the University of Mississippi in 1963.  The male recipient survived only 18 days.