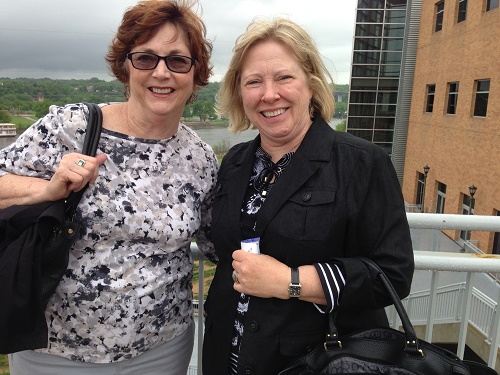 Caregiving
My Sister's Lungs, Part Five: We're Still Waiting
Editor's Note: In the final part of a five-part series, thirdAGE contributor Nancy Wurtzel (at right in the above photo) shares the ordeal her sister Barbara (at left in the above photo) is undergoing as she waits for a match for a lung transplant. Barbara's situation is complicated by the fact that her husband, Jim, has Alzheimer's. Additionally, the sisters' mother is suffering from dementia as well. Here is the story of a family on a frightening, grueling healthcare journey of the kind that will be all too familiar to millions of Americans. You can read the first installment here, the second installment here, the third installment here and the fourth installment here. For more information about the "organ transplant gap,"  click here.
By Nancy Wurtzel
I can't believe it has been nearly three months since I began writing this series about my sister's lung disease.  In some ways, it feels like a few days but in other ways it feels like years.
We are still in a holding pattern: Waiting for a call from the University of Minnesota, telling Barbara that a lung transplant match has been found.  This will mean she will have the chance of a longer and hopefully healthier life.
When Barbara was first added to the transplant list, we lived in a state of high alert, thinking about little else and not making plans beyond a day or two.  Every time the phone rang we'd flinch and hold our breath.  But we quickly learned it is exhausting to maintain such a wired, vigilant state.  Instead, waiting has morphed into our new normal, and we've been able to relax to some degree.  I never thought that would be possible, but it is.
While we wait, life keeps going forward.
Spring has arrived in the upper Midwest, and that means lots of yard work and outdoor activities.  Most days, I walk my Goldendoodle, Callie, and twice a week I squeeze in a yoga class, which helps alleviate stress.
I also continue writing, handling assignments for clients and creating original content for my blog, Dating Dementia, which focuses on Alzheimer's and caregiving issues.
My 23-year-old daughter, Katie, a recent college graduate, is living with me.  We enjoy many of the same interests, like history and reading, and find it fun to share and discuss books.  Over dinner, we'll also chill out by watching episodes of Gilmore Girls on Netflix.  I never saw the series when it first aired, so we are playing catch-up. Since Barbara was added to the transplant list, Katie and I have logged three seasons.
Barbara also remains busy.  Her doctors want her exercising several times a week at pulmonary rehab, plus she has a series of ongoing medical appointments.  Since her health is on a steady decline, Barbara now sleeps at least 10 hours a night, and often needs to rest or nap during the day.  She's on oxygen full-time, always tethered either to a big concentrator that sits next to her bed or a portable contraption when she is away from home.
Pages: 1 2