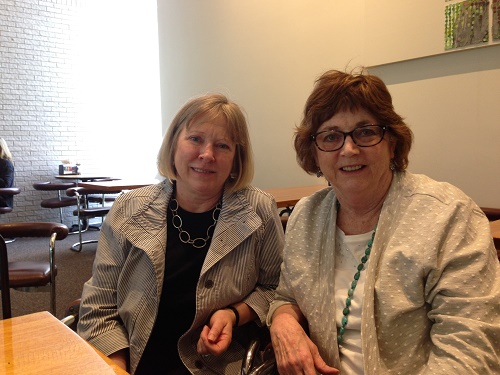 Medical Procedures
My Sister's Lungs, Part One
Editor's Note: In the first of a five-part series, thirdAGE contributor Nancy Wurtzel (at left in the above photo) shares the ordeal her sister Barbara (at right in the above photo) is undergoing as she waits for a match for a lung transplant. Barbara's situation is complicated by the fact that her husband, Jim, has Alzheimer's. Additionally, the sisters' mother is suffering from dementia as well. Here is the story of a family on a frightening, grueling healthcare journey of the kind that will be all too familiar to millions of Americans. For an article by Nancy on the transplant issue overall, click here.

By Nancy Wurtzel
My older sister, Barbara, and I are having dinner at a local restaurant when her cell phone rings.  Barbara doesn't recognize the number, and her hands shake as she answers.  I hold my breath, but exhale when I realize the call isn't the one we've been anticipating.
That call, the one we'd hoped for, would have been from a lung transplant coordinator at the University of Minnesota, and the caller would have said the six words that would change our lives, "We have a match for you."
Since the right match could take days, weeks or even months, we wait, practice patience, and reflect on my sister's healthcare journey.
The story of my sister's lungs began decades ago, but for most of those years, Barbara wasn't even aware she had a serious illness, only knowing that when she got a cold it always affected her lungs.
By the time she was in her late 40s, however, Barbara knew something was very wrong.  Her lung infections had become more intense, frequent and prolonged.  Sometimes she had a new infection before she had even fully recovered from the last.
Over the years, Barbara had been seen by several pulmonologists, yet her condition remained a mystery.
One day a friend told her that the Mayo Clinic would evaluate walk-in patients seeking a diagnosis, even a person without a referral or appointment (a policy that has since changed).  A short time later, armed with her already-heavy medical record, my sister drove three hours south to Rochester, Minnesota, hopeful she might finally get some answers, but equally reticent about what she might learn.
The Mayo Clinic excels at solving medical puzzles.  Within a few days, Barbara had undergone dozens of tests and been seen by a team of health care experts.
The diagnosis was sobering: Interstitial Lung Disease, caused initially by an underlying condition called hypersensitivity pneumonitis (HP), a toxic lung inflammation brought about by breathing in a foreign substance such as certain types of dust, fungus or mold.
If HP is not detected and treated promptly, it can become a chronic condition and eventually morph into another, even more serious disease, which is exactly what happened to Barbara.