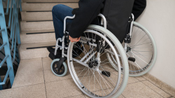 Medical Care
Non-Invasive Technique Can Help with Paralysis
Thanks to a new, non-invasive procedure that stimulates the spinal cord, five men who had been completely paralyzed were able to move their legs. It is believed to be the first time that voluntary leg movements have ever been relearned in completely paralyzed patients without surgery.
"These findings tell us we have to look at spinal cord injury in a new way," said V. Reggie Edgerton, senior author of the research and a UCLA distinguished professor of integrative biology and physiology, neurobiology and neurosurgery.
The findings were published in the Journal of Neurotrauma.
Although it will probably be years before the approach is easily available, Edgerton says he thinks it is possible to significantly improve quality of life for patients with severe spinal cord injuries, and to help them recover multiple body functions.
"People who are paralyzed are often told very early on, 'Don't have any hope because you're not going to recover function below the lesion,'" he said. "They have been told that for decades, and still are today. But this was ridiculous before, and it's even more ridiculous now."
According to a news release from UCLA, Edgerton and his colleagues, the University of Louisville's Susan Harkema and Claudia Angeli and UCLA's Yury Gerasimenko, reported that four young men who had been paralyzed for years were able to move their legs, hips, ankles and toes following epidural electrical stimulation of their spinal cords.
However, the procedure required that the stimulator be surgically implanted and activated — and that device remains under the skin for years.
Earlier this year, a team led by Gerasimenko and Edgerton, along with Ruslan Gorodnichev of Russia's Velikie Luky State Academy of Physical Education and Sport, demonstrated that they could induce involuntary stepping movements in healthy, uninjured people using noninvasive stimulation. The finding led Edgerton to believe the same approach could be effective for people with complete paralysis.
In the new research, five men from coauthor Dr. Daniel Lu's UCLA neurosurgical research laboratory were given one 45-minute training session per week for 18 weeks. For four weeks, the men were also given twice daily doses of buspirone, a drug often used to treat anxiety disorders.
Researchers placed electrodes at strategic points on the skin, at the lower back and near the tailbone and then administered a unique pattern of electrical currents. The electrical charges caused no discomfort to the patients, who were lying down.
"The fact that they regained voluntary control so quickly must mean that they had neural connections that were dormant, which we reawakened," said Edgerton, who for nearly 40 years has conducted research on how the neural networks in the spinal cord regain control of standing, stepping and voluntary control of movements after paralysis. "It was remarkable."
Pages: 1 2