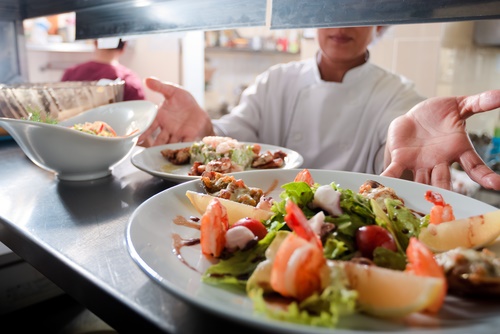 Diet & Nutrition
Obesity
Ordering Meals Earlier Is Healthier
People eat in a healthier manner when they avoid impulse ordering and plan meals at least an hour before eating, researchers have found.
New findings from researchers at the Perelman School of Medicine at the University of Pennsylvania and Carnegie Mellon University show that people choose higher-calorie meals when ordering immediately before eating, and lower-calorie meals when orders are placed an hour or more in advance. The results, which have implications for addressing the nation's obesity epidemic, are published in the Journal of Marketing Research.
"Our results show that ordering meals when you're already hungry and ready to eat leads to an overall increase in the number of calories ordered, and suggest that by ordering meals in advance, the likelihood of making indulgent purchases is drastically reduced," said lead author Eric M. VanEpps, PhD, a postdoctoral researcher at the Penn Center for Health Incentives and Behavioral Economics, who conducted the studies while a graduate student at Carnegie Mellon. "The implication is that restaurants and other food providers can generate health benefits for their customers by offering the opportunity to place advance orders."
Researchers conducted two field studies examining online lunch orders of 690 employees using an onsite corporate cafeteria, and a third study with 195 university students selecting among catered lunch options. Across all three studies, the researchers noted that meals with higher calorie content were ordered and consumed when there were shorter (or no) waiting periods between ordering and eating.
The first study was a secondary data analysis of over 1,000 orders that could be placed any time after 7 a.m. to be picked up between 11 a.m. and 2 p.m. The second study randomly assigned participants to place orders before 10 a.m. or after 11 a.m. The third study randomly assigned university students to order lunch before or after class, with lunches provided immediately after class.
In the first study, VanEpps and colleagues from Carnegie Mellon University found that for every hour of delay between when the order was placed and the food was ready (average delay of 105 minutes), there was a decrease of approximately 38 calories in the items ordered. In the second study, the researchers found that those who placed orders in advance, with an average delay of 168 minutes, had an average reduction of 30 calories (568 vs. 598) compared to those who ordered closer to lunchtime (with an average delay of 42 minutes between ordering and eating). The third study showed that students who placed orders in advance ordered significantly fewer calories (an average of 890 calories) compared to those who ordered at lunchtime (an average of 999 calories).
Pages: 1 2