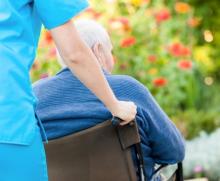 Caregiving
Professional Post-Stroke Care From Head to Toe
At the end of nurse Lorraine Williams' recent home care visit to Professor Samuel Kaplan, he walked her to the apartment's front door. "I was so surprised," she marvels. Only a year earlier, the 70-something professor had a stroke and couldn't walk.
Yet with an attentive home health care team that included home health aides, nurses, physical therapists, speech therapists, and social workers, in addition to his wife, Professor Kaplan was reaching his goal of resuming the pleasures of his old life, including regular visits to his country house and walking a female visitor to the front door. "That was something customary for him," says Lorraine. "So he was focused on doing it once again."
Each year, according to the American Heart Association and American Stroke Association, some 795,000 Americans have a stroke, or cerebrovascular accident (CVA), when blood flow to a part of the brain stops. Rehabilitation and follow-up care vary widely, depending on the severity of the stroke's damage. Some people can speak and walk, although with delays or assistance. Paralysis or impairment on one side of the body and face is common. Still others may be bedbound and unable to communicate. Home care, ideally from a professional care team along with a committed family member, is frequently necessary around the clock.
Specialized care — such as for a stroke survivor — has become central to the story of nurse-led home health care, in which teams similar to Professor Kaplan's help patients implement doctor's orders or a nurse's plan of care as part of day-to-day life at home.
Home care involves a combination of physical and emotional attention. Patience, compassion and encouragement are a must. "I always look for something positive and pay a compliment right when I come in," says Lorraine, who is an RN and a field supervisor. "You can always find something to praise — the skin, the smile, the eyes. It does so much."
Care: From Head to Toe
Caring for a stroke survivor involves being attentive from head to toe, as stroke often affects the ability to speak and swallow as well as stand, balance, and walk. Oral care is central to safety and well-being. Make sure food never gets left in the mouth. Doctor's orders or a nurse's plan of care should let you know if food should be pureed or cut in very small pieces. Still, encourage the person toward as much independence as possible. You cut the food but encourage her to feed herself. If a fork is unwieldy, use a spoon. If she can lift a cup but is unsteady, use a sippy cup.