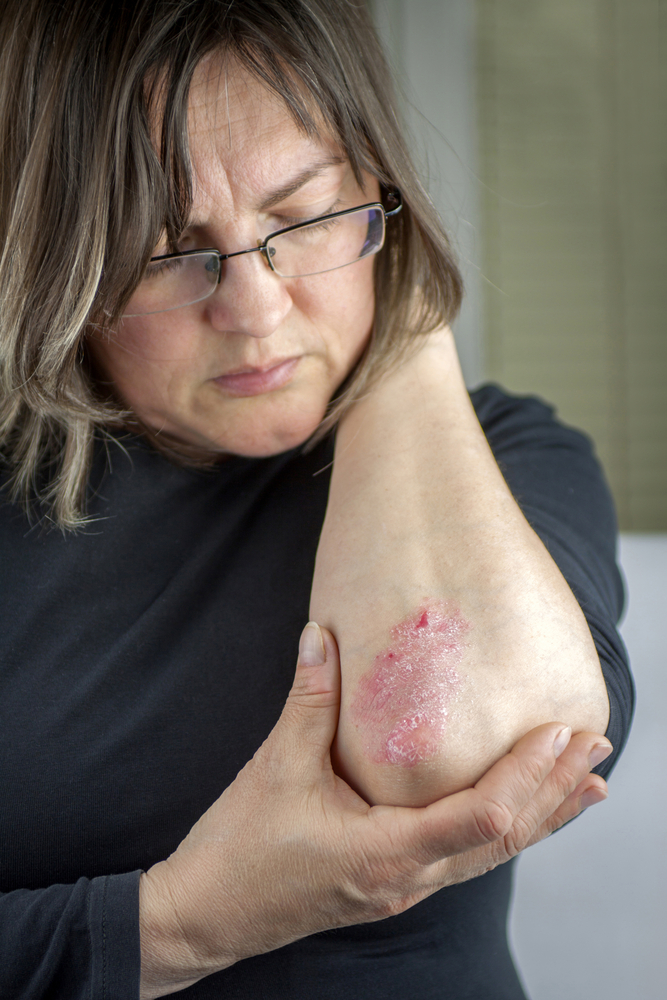 Skin
Skin Health
Psoriasis-Hypertension Link
Patients with more severe psoriasis are also more likely to have uncontrolled hypertension, according to research done at the Perelman School of Medicine at the University of Pennsylvania. Through a cross-sectional study using information collected from a medical records database, the results provide further evidence of a strong link between psoriasis and hypertension. The results were published in October 2014 in JAMA Dermatology.
A release from the university quotes co-first author Junko Takeshita, MD, PhD, clinical instructor in the department of Dermatology at Penn Medicine, as saying, "Over the last several years, studies have shown that psoriasis, specifically severe psoriasis, is an independent risk factor for a variety of comorbidities, putting patients suffering with this common skin disease at an increased risk for other conditions such as heart attack and stroke. Knowing that psoriasis is tied to other health conditions, it's vital that we have a better understanding of the systemic effects it has on other areas of the body so that we can more closely monitor these patients and provide better and preventative care."
Defining uncontrolled hypertension as blood pressure measured as at least 140/90, the researchers found a clear relationship between psoriasis and uncontrolled hypertension in patients with a confirmed diagnosis of psoriasis. Additional finding indicate there is a significant dose-response relationship, meaning that the likelihood of uncontrolled hypertension increases with greater psoriasis severity. Results of the study reveal that the patients with the highest risk of having uncontrolled blood pressure, are those with moderate to severe psoriasis, which is defined as having at least three percent of one's body surface affected by the disease.
Takeshita and colleagues examined data from a random sample of psoriasis patients included in The Health Improvement Network (THIN), an electronic medical database based in the United Kingdom that collects demographic, diagnostic, treatment, and laboratory information from a broad representative sample of the UK population. Takeshita says the psoriasis diagnostic code in the database has been validated through extensive studies looking at the condition.
The researchers concentrated on a specific group within the THIN database called the Incident Health Outcomes and Psoriasis Events (iHOPE) cohort, a random sample of about 9000 patients with a confirmed diagnosis of psoriasis and disease severity classified by their general practitioners using objective measures, specifically body surface area involvement. This permitted a level of analysis not possible in previous studies.
Pages: 1 2