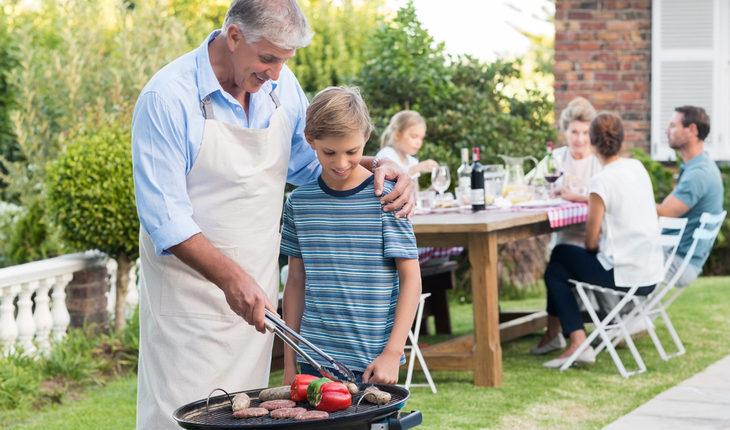 Diet & Nutrition
Don't Let Barbecue Season Sabotage Your Diet
Tip 3: Limit carbs to vegetables, fruit and other low carb options.  Vegetables are high in volume, meaning we get a lot for a little.  A lot of food, a lot of chewing, and a lot of fiber, which keeps you full, for very few calories.  Pair your lean protein from tip 2 above with an oversized salad for lunch.  Try to stay away from fattening dressings.  Berries are a great option for staying low carb.  Pair it with Greek yogurt for a delicious high protein snack.  Berries are high in fiber as well, and are also high volume and low carb/calories.  Rice cakes are another low carb option that give you a big bang for your buck.  I love the butter popcorn flavor – they have 8 grams of carbs, no fat and a good punch of fiber that will keep you full.
Tip 4: Don't skip your workout. If you can't do your normal exercise routine, try to incorporate at least 30 minutes of cardio in during the day.  It will off set the calories a bit and most likely put you in a healthier state of mind for the rest of the day.
Tip 5: Try to drink as much water as possible, especially if you are planning on having wine, beer or cocktails in the evening. While water is not a magic pill, it does make you feel fuller before a meal.  In addition, alcohol dehydrates you, so if you drink copious amount of water during the day, you will be ahead of the game later on.
Tip 6: DON'T STRESS AND ENJOY THE NIGHT! One day is not going to deter progress in the long run.  Think about it this way – if you have been consistent with your goals for a year or any length of time, that is what shows progress, and one day/ night out does not impact that. After all, we didn't gain all this weight in one night and we certainly are not going to lose weight going off plan for one night.  It's important to look at the overall picture, the journey, and not the quick fix.
Enjoy life, enjoy your health and fitness journey, make smart decisions, and remember, everything in moderation. Balance is key to any successful diet.
Sloane Davis is a Certified Nutritionist and Personal Trainer who has helped thousands of people, both men and women, around the world get in to top shape both mentally and physically. Sloane has her undergraduate degree in Bachelor of Arts from Syracuse University and became accredited through ISSA with her degree in Sports Nutrition and Personal Training. She works personally and online with thousands of clients around the US and globally. She has been featured in People, Fitness Magazine, New Beauty Magazine, Apple News, The Daily Mail, Yahoo News, Westchester Magazine and Fox 5 Good Day New York.  Please visit PancakesandPush-ups.com.
Pages: 1 2