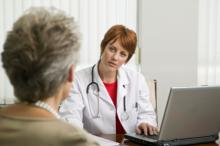 Regular Doc Visits Help Prevent Skin Cancer Deaths
The risk of dying from, melanoma, the most dangerous type of skin cancer is significantly reduced with regular doctor visits, according to a study done in Detroit at Henry Ford Hospital. The researchers believe that this is the first study to link melanoma mortality with routine health care use.
A release from the hospital reports that the team found that deaths from melanoma dropped 70 percent in patients who had at least one visit to their family doctor or to a specialist in the five years prior to their diagnosis. When the investigators factored in age, gender, socio economics, and co-morbidities, mortality decreased by 90 percent in patients who visited a specialist.
The researchers also found substantial reductions in mortality in patients who underwent preventive screenings such as a fasting blood test or colonoscopy.
The study is on the rostor of presentation for Friday, May 9th 2014 at the Society of Investigative Dermatology's annual meeting in New Mexico.
The release quotes lead author Melody Elde, M.D., MPH as saying, "This study is important because it's not about having health insurance or having access to care. It's about tapping into that care. We know that people are always going to have struggles in their lives. They're going to have unreliable transportation, children that they're caring for, copays that are too expensive to pay. What this study suggests is that these types of barriers may impact your prognosis for cancer if they impede your ability to make your medical care a priority."
While all cancer deaths declined 1.5 percent annually from 2002 to 2011, the number of melanoma deaths increased 5 percent in the early to mid-1990s but have since leveled off, according to the National Institutes of Health.
However, disparities and poor outcomes exist in melanoma patients who are older, male, and from ethnic and lower socioeconomic backgrounds. Researchers sought to examine whether these disparities, when coupled with patients who have insurance and access to care, could be predictors of melanoma mortality.
For the retrospective observational study, researchers reviewed melanoma cases of 251 Caucasian patients from 2001 to 2007, of which 158 were men. The patients all had health insurance and were eligible for care in a health maintenance organization during the study period. The patients' average age was 60, the age at which patients are typically diagnosed with melanoma.
Surprisingly, researchers found that visiting a specialist prior to melanoma diagnosis may reduce their risk of dying by 90 percent.
Pages: 1 2