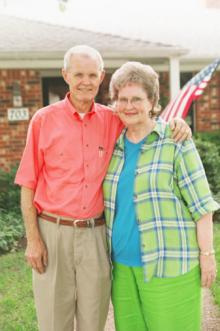 Sex
Restarting Your Sex Life
Normal aging brings physical changes in both men and women. These changes sometimes affect the ability to have and enjoy sex. A woman may notice changes in her vagina. As a woman ages, her vagina can shorten and narrow. Her vaginal walls can become thinner and also a little stiffer. Most women will have less vaginal lubrication. These changes could affect sexual function and/or pleasure.
As men get older, impotence (also called erectile dysfunction–ED) becomes more common. ED is the loss of ability to have and keep an erection for sexual intercourse. ED may cause a man to take longer to have an erection. His erection may not be as firm or as large as it used to be. The loss of erection after orgasm may happen more quickly, or it may take longer before another erection is possible.
Some illnesses, disabilities, medicines, and surgeries can affect your ability to have and enjoy sex. Problems in your relationship can also affect your ability to enjoy sex.
Arthritis. Joint pain due to arthritis can make sexual contact uncomfortable. Your pain may be relieved by xxercise, drugs, and possibly joint replacement surgery. Rest, warm baths, and changing the position or timing of sex can also be helpful.
Chronic pain. Any constant pain can interfere with intimacy between older people. Chronic pain does not have to be part of growing older and can often be treated. However, some pain medicines can interfere with sexual function. Talk with your doctor if you notice that your pain medication – or any medication has this unwanted side effect.
Dementia. Some people with dementia show increased interest in sex and physical closeness, but they may not be able to judge what is appropriate sexual behavior. Those with severe dementia may not recognize their spouse but still seek sexual contact. This can be a confusing problem for the spouse. Talk with a doctor, nurse or social worker about how to deal with the situation.
Diabetes. This is one of the illnesses that can cause ED in some men. In most cases, medical treatment can help. Less is known about how diabetes affects sexuality in older women. Women with diabetes are more likely to have vaginal yeast infections, which can cause itching and irritation and make sex uncomfortable or undesirable. Yeast infections can be treated.
Heart disease. Narrowing and hardening of the arteries can change blood vessels so that blood does not flow freely. As a result, men and women may have problems with orgasms, and men may have trouble with erections. People who have had a heart attack, or their partners, may be afraid that having sex will cause another attack. Even though sexual activity is generally safe, always follow your doctor's advice. If your heart problems get worse and you have chest pain or shortness of breath even while resting, talk to your doctor. He or she may want to change your treatment plan.