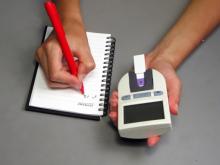 Restoring Insulin-Producing Cells for Diabetics
Two recent studies led by University of California-San Francisco scientists have shed new light on the nature of beta cells, the insulin-producing cells in the pancreas that are compromised in diabetes.
A release from the university notes that the first study suggests that some cases of diabetes may be caused when beta cells are deprived of oxygen, prompting them to revert to a less mature state that renders them incapable of producing insulin. The second study demonstrates that acinar cells, pancreatic cells that do not normally produce insulin, can be converted to functional beta cells, a potential new avenue for treating the disease.
In the first study, led by Sapna Puri, PhD, a scientist in the laboratory of Matthias Hebrok, PhD, director of the UCSF Diabetes Center, a gene known as VHL was selectively deleted from beta cells in mice. Insulin production in these beta cells was sharply reduced, and over time the mice developed the physiological equivalent of type 2 diabetes. Puri and Hebrok were joined in the study by Haruhiko Akiyama, MD, PhD, of Kyoto University, who provided a critical mouse model for the work.
Type 2 diabetes, which usually emerges in adulthood but is becoming increasingly common in childhood, is generally thought to arise when tissues become resistant to the effects of insulin, causing higher levels of glucose to circulate in the blood. Type 1 diabetes, diagnosed in childhood, is an autoimmune disease in which pancreatic beta cells are attacked and damaged by the immune system.
Despite the fact that much research on type 2 diabetes is focused on insulin resistance, the team behind the first new study suggests that a decline in the function of beta cells over time may be a factor in many cases, such as in the subset of lean adults who develop diabetes.
The release quotes senor author Hebrok as saying, "Some humans with a high body mass index have well-performing beta cells, and some lean people have poorly performing beta cells. This mouse is a model of lean humans who develop type 2 diabetes."
During the development of the pancreas, changes in gene expression cause some cells to differentiate into beta cells, but when the researchers examined the VHL-deprived beta cells they found the cells had "de-differentiated." Critical proteins that are always found in mature, functional beta cells were absent, and conversely, a protein known as Sox9, which is only seen in beta cells before they are fully developed, was "robustly expressed in the VHL-deprived cells".
"Levels of markers of mature cells go down in these cells, and markers that shouldn't be there go up," Hebrok said.
VHL is a vital cellular oxygen-sensor. In low-oxygen conditions, VHL unleashes intracellular pathways that make compensatory metabolic changes to protect the cell. If these metabolic adjustments fail, alternative pathways prompt the cell to self-destruct.