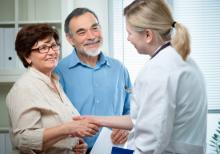 Rural Docs Doing a Good Job
Although studies have found that the quality of care delivered to rural patients is as good or better than that available in urban areas, the belief persists that top-quality primary care is only available in big cities. However, a new study done at Massachusetts General Hospital and published in the National Rural Health Association's Journal of Rural Health finds few meaningful differences between rural and urban primary care physicians on key measures of professionalism, including their attitudes about participation in quality care improvement. The study did find differences in the likelihood of physicians' knowing a colleague who was impaired or incompetent, in their confidence evaluating new information and in several aspects of their interactions with patients.
A release from the hospital quotes says study leader Eric G. Campbell, PhD as saying, "In terms of professional beliefs and behaviors, we found that rural and urban doctors are more alike than they are different. Despite our results and other evidence, the perception still exists that rural primary care is not as good as that available in cities. So we needed to learn more about the factors driving that misperception and the role it may play in the continuing shortage of rural physicians in the U.S."
Campbell and his co-authors note that, while smaller rural communities may have disadvantages in terms of fewer training options, rural primary-care physicians are significantly more likely to participate in activities such as quality improvement in their practices and hospitals. The fact that rural physicians are more likely to have personal as well as professional relationships with their patients may give them a better sense of environmental and lifestyle factors that affect patients' health but also could lead to challenges when professional responsibilities conflict with patient expectations and perceptions.
This study was designed to determine whether there were significant differences between primary care rural and urban physicians in terms of professional beliefs and in their interest and participation in quality improvement activities. The survey was sent to almost 3,000 practicing physicians randomly selected from an American Medical Association database, almost 2,000 of whom responded. The current report analyzes responses from 840 family practitioners, internists or general pediatricians. Based on ZIP code information, 127 respondents practiced in rural communities, while the other 713 were from urban areas.
Pages: 1 2