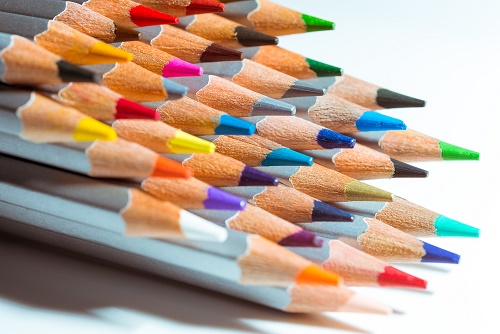 Hobbies
Secrets of a Stress-Free Coloring Hobby
Once upon a time, coloring books had large patterns and were meant only for little artists. Now, though, the grown-ups appear to have taken the market by storm. According to Nielsen Bookscan, 12 million adult coloring books were sold in the U.S. alone in 2015, and that figure is expected to increase this year. And coloring has been widely touted as a destressing technique. But wait! As pleasurable and simple as it may sound (and in most ways, it is), you can get tripped up by, say, buying the wrong book or the wrong supplies. I've been coloring since before coloring was cool, and the years have taught me a few things. Here are some ways to help you have a great coloring practice without stressing out. After all, coloring is meant to calm you down.

*If you're a beginner, do not buy a book that is too intricate. Joanna Basford's coloring books (Secret Garden, Enchanted Forest) are best-sellers, but I find their patterns to be way too tiny and involved to be stress-reducing. Judging by some of the reviews on Amazon, I'm not the only one. With books that have designs this intricate, don't use any kind of marker or artist pen, because it won't stay within the lines. And I can only assume that if you are coloring in these books, you really do want to stay within the lines. Pencils are better.
*Choose a subject you're interested in. Dover Publications, a long-time source of coloring books, has books on everything from angels to mandalas. There's even one for 1950s fashions.  Click here to see their assortment. You can also sign up for their newsletter, which includes free coloring pages.
*Spend wisely on supplies. In the beginning, it's tempting to run to the nearest art supply store and get the best markers, pens and pencils they have. But higher-quality pencils that are used by art students have to be manually sharpened because of the quality of their lead. That's a pain if you're unskilled or lazy or both. Crayola colored pencils give good color and can be automatically sharpened. Get a box of 24 to start.
It's probably worth your while to spend more on fine-tipped artist pens. Faber Castell has wonderful instruments that will make your coloring pop. They are expensive, so start with a smaller set to see if you like them. Check out what Blick Art Materials (www.dickblick.com) has to offer.  You can buy individual pens as well if you want to increase your collection.
*If you do use markers or artist pens, make sure they won't show through the other side of your page. The vast majority of coloring books are meant for colored pencils. But there are charming exceptions, like the Rosie Flo coloring books from Chronicle Books, which also take artist pens beautifully. For funkier tastes, Chronicle has color-in tattoo postcards.
Pages: 1 2