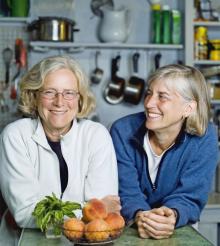 Aging Well
Seniors Have Roomies, Too
By Judy Santamaria, MSPH
Most of us know that loneliness isn't good for us — but as we age, many of us find our circle of friends and family diminishing in size for various reasons. Sometimes consciously, sometimes not, loneliness can creep in, and begin to affect our spirits in a less-than-healthy way. Recently, I've been hearing about some really interesting ways seniors are stacking the deck in their own favor to combat loneliness associated with aging, and I wanted to share a few of them with you here.
First, think about this: Brain studies prove that the more social we are, the longer we live–and the better quality of life we enjoy. In one study, researchers at Harvard Medical School followed nearly 45,000 people who had heart disease or were at high risk of developing it. The four-year study found that those who lived alone were more likely to die from heart attack, stroke or other heart-related problems than those who lived with others.
Many seniors live alone after divorce or the passing of a spouse — as if they take for granted that it's their lot in life — but it doesn't have to be that way. Instead, these transitions can become very creative — and even fun new chapters in our lives.
Sharing space can save money as well as provide us someone to talk to and rely on, to share meals and conversations with — and, of course, it guarantees that someone will be there if we need help as we get older. When shared housing works out, it can keep seniors at home longer than they would otherwise be able to remain alone. It can also be a boon for family caregivers, who worry about senior loved ones living on their own.
Gloria B. had lived alone for six years after her husband died. She struggled with rheumatoid arthritis but was managing "well enough." Her main worry was how to keep up the house now that much of her strength was gone, and she had nagging fears that she soon wouldn't be able to afford all the expenses. Gloria's daughter Jane lived 90 minutes away and tried to visit often, but with a job and kids of her own, she found it difficult to help her mom as much as she wanted to. And she worried about her all the time.
The idea of getting a roommate for mom first came to Jane when talking with a friend in Illinois whose father had taken in a boarder to help with expenses and was very happy with the arrangement. Jane started thinking this might work for her mother. After all, Gloria had a three-bedroom house, and her home was conveniently located near public transportation. She started asking around when she brought her mom to church and to doctor appointments.