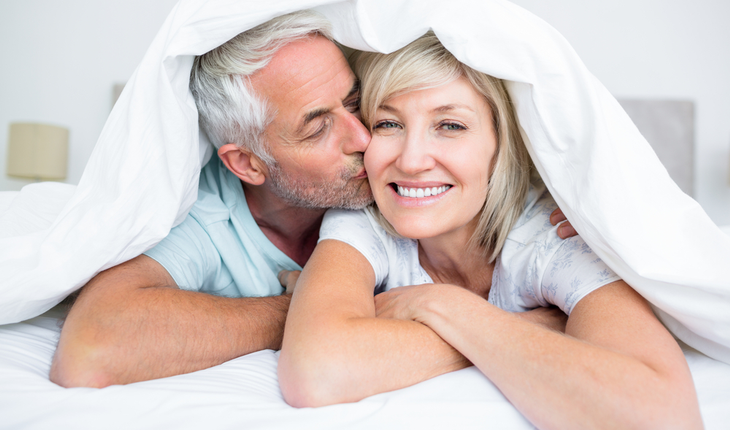 Menopause
The "Silent Symptom" of Menopause
Editor's note: October 18th is World Menopause Day. Here, to help you celebrate, is the information you need to keep the loving alive and well as you experience "the change."
Although peri- and post-menopausal women talk about night sweats and hot flashes as symptoms of menopause, fewer bring up the "silent symptom" of vaginal discomfort. Many women believe that vaginal dryness or pain with sex is a natural part of aging after menopause and that it is normal to endure these symptoms. Not so, says Dr. James A. Simon, past president of NAMS (North American Menopause Society) and a board member of the International Society for Study of Women's Sexual Health. "It is a totally and completely treatable problem, universal to all menopausal women, and one that only gets worse as women age," says Simon.
Vaginal atrophy — thinning and inflammation of the vaginal wall due to a reduction in estrogen levels that affects the elasticity of the tissues around the vagina and production of vaginal fluid – can be managed with a simple treatment that has been around for decades. Low dose local estrogen products that are put in and around vagina can restore normal, premenopausal health and the structure of the vagina.
So why are so many women clueless?
A global survey of post-menopausal women and their partners presented by Dr. Simon at the NAMS Annual Meeting this October concludes proper treatment can end needless suffering from vaginal discomfort and atrophy. Findings presented by Dr. Simon are based on the CLOSER Survey (CLarifying Vaginal Atrophy's Impact On SEx and Relationships), sponsored by global healthcare company Novo Nordisk. The survey was conducted between December of 2011 and February 2012, with results from 4,167 menopausal women between 55 and 65 who had experienced vaginal atrophy, and from 4,174 male partners of post-menopausal women with vaginal atrophy. The respondents were from nine countries: U.S., UK, Canada, Denmark, Sweden, Finland, Norway, Italy, and France. A sub-analysis, called The Partners' Survey, is based on U.S. respondents only (about 500 female and 500 male subjects).
The large sampling highlighted two issues. One is the significant impact vaginal symptoms have on menopausal women's partners and relationships –the first time this has been studied, according to Dr. Simon, who was heartened by male partners' concern and willingness to talk about the problem. The other is how women must start talking about their symptoms and asking their physicians for treatment since doctors seem just as reluctant as women to talk about vaginal discomfort.
Some findings from the surveys:
*More than half of women reported that they avoid being intimatewith their partner.
*65 percent of women reported that they have lost their libido.
*A third of women claimed that they no longer feel sexuallyattractive
andthat they have lost confidence inthemselves as a sexual partner.