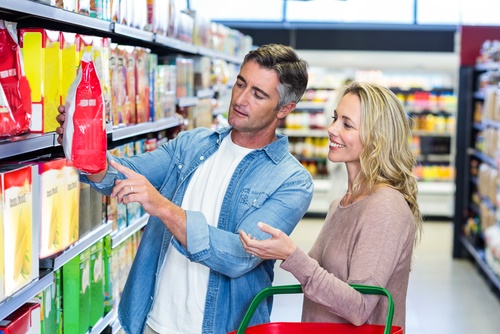 Simpler Expiration Dates for Food
Over the years, sell-by dates have caused confusion for consumers buying food products, but now grocery manufacturers and retailers are adopting standard wording that will help people better evaluate quality and safety.
According to a new release from the Grocery Marketing Association (GMA), an industry-wide trade group, there have been more than 10 different labels on packages. Examples include Sell By, Use By, Expires On, Best Before, Better if Used By, Best By. The GMA news release says myriad labels can lead to consumers discarding a safe or usable project.
The voluntary initiative reduces the labels to only two standard phrases. "BEST If Used By" describes product quality, where the product may not taste or perform as expected but is safe to use or consume. "USE By" applies to the few products that are highly perishable and/or have a food safety concern over time; these products should be consumed by the date listed on the package – and disposed of after that date.
In addition to the GMA, the initiative is supported by the Food Marketing Institute (FMI), the other major trade association for retailers and consumer product manufacturing,
The GMA news release said that retailers and manufacturers are encouraged to immediately begin phasing in the common wording. They are urging "widespread adoption" by this summer. The phase-in of the new labeling will help manufacturers make their changes consistently among different product categories.
"Our product code dating initiative is the latest example of how retailers and manufacturers are stepping up to help consumers and to reduce food waste," Pamela G. Bailey, GMA president and CEO, said in the news release.
"We want to encourage a consistent vocabulary so that our customers clearly understand they are purchasing products that are of the highest quality and safety possible," said Leslie G. Sarasin, FMI president and CEO. "Both retailers and manufacturers also want consumers to have the best experience possible in their stores and consuming their products."
Joe Colalillo, president of ShopRite of Hunterdon County, Inc. and chairman and CEO of Wakefern Food Corp., said the initiative provides shoppers with clear, easily understood date label information, so our customers can be confident in the product's quality and safety.
"Eliminating confusion for consumers by using common product date wording is a win-win because it means more products will be used instead of thrown away in error," said Jack Jeffers, Vice President of Quality at Dean Foods, which led GMA's work on this issue. "It's much better that these products stay in the kitchen – and out of landfills."
According to the GMA news release, about 44 percent of food waste sent to landfills comes from consumers, and statistics show that addressing consumer confusion around product date labeling could reduce total national food waste by just 8 percent.
Pages: 1 2