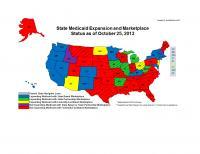 States' Restrictions on ACA Hampering Access
The first study to gauge the impact of state restrictions on the roll-out of the Affordable Care Act (ACA) indicates that community health centers across the country are engaged in an intensive effort to find and enroll eligible and uninsured patients and community residents. At the same time, the findings from the study, by the Geiger Gibson/RCHN Community Health Foundation Research Collaborative at the George Washington University School of Public Health and Health Services in Washington DC show that health centers working in restrictive states are hampered in their outreach and enrollment efforts and are significantly less optimistic about the impact of health reform in their communities.
A release from the university quotes study co-author Sara Rosenbaum, JD as saying, "These findings show the effects of state policies that are designed to stand in the way of health reform. These restrictive policies are measurably impairing community-level efforts to cover the uninsured. Without the Medicaid expansion or comprehensive enrollment assistance, millions of people in medically underserved communities could go without the benefits provided under the Affordable Care Act."
The study, "Assessing the Potential Impact of State Policies on Community Health Centers' Outreach and Enrollment Activities," is the first to examine efforts on the front lines to find and enroll uninsured people, many of whom are living in rural and urban communities that face high poverty rates, elevated health risks, and a shortage of primary health care. Using data from a nationwide survey, conducted in partnership with the National Association of Community Health Centers, the authors examined the early outreach and enrollment efforts of 606 community health centers across the United States. According to the authors, by early October 2013, virtually all of the responding health centers had received enhanced outreach funding, and three quarters had already instituted expanded outreach and enrollment assistance efforts such as one-on-one assistance with both online and paper applications for health insurance, and enrollment help in multiple languages.