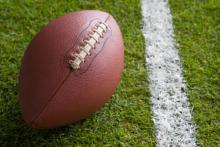 Stay Warm and Healthy on Game Day
New York-Presbyterian Hospital, an official health services provider for the Super Bowl, offers advice on dealing with the cold as well as tips for healthy Game Day 2014 snacking:
Beyond Bundling Up: Tips to Stay Safe When Out in the Cold
*Cold temperatures can cause skin disorders or frostbite in some people. See a doctor immediately if you develop color changes in your hands or feet accompanied by pain or ulceration. If you develop extreme pain followed by loss of sensation in a finger or toe, you may have frostbite.
*The winter sun can be dangerous to the skin. Even in the winter months you should use a sunscreen with a sun-protection factor of 15 or greater if you will be outdoors for prolonged periods. Overexposure to sunlight can lead to premature aging of the skin and skin cancer.
*Wear a hat and cover your ears. It's a myth that your head loses 50 percent of your body heat, but it can lose as much as 10 percent. Always wear a scarf over your mouth and nose to warm the air before you breathe in, and dress in layers. Layering clothes underneath a windproof and waterproof outer shell helps maintain body heat.
*Move around — hopefully your team will give you something to stand up and cheer about.
*Drink warm drinks and avoid alcohol. Alcohol causes your blood vessels to dilate, causing you to lose heat.
*Wear mittens instead of gloves to keep your fingers warmer. Also consider using portable hand or feet warmers.
Hosting a Healthy Super Bowl Party: Easy Tips to Help Reduce and Manage the Calories of Favorite Super Bowl Foods.
*Nacho Layer Dip: Replace with a seven-layer dip for a festive, tasty alternative. Layer avocado, low-fat Greek yogurt, black beans, tomatoes, lettuce and cheddar cheese for a dip that's high in fiber and low in fat. Serve with baked pita chips to save even more calories. You save: 900 calories and 60 grams of fat.
*Baked Chicken Fingers: Instead of fried, bake your own at home. Bread chicken breast tenders in crushed cornflakes and then bake until crispy. Save calories by making an easy honey-mustard using honey and spicy mustard instead of store bought. You save: 400 calories and 15 grams of fat.
*Kale chips instead of potato chips: Kale is all the rage right now, as are the chips made from its leaves. Kale chips are simple to make — tear the leaves into small pieces, rub with olive oil, sprinkle on some sea salt and spices, and toss in the oven. Not only will you save calories and fat, you'll also get your fill of nutrients such as Vitamins A and C, potassium and calcium. You save: 340 calories and 25 grams of fat.
*Turkey Chili: With just a few simple substitutions, you can cut over half of the total fat as well as unhealthy saturated fat, without losing any of the beloved flavors. Replace ground beef with lean ground turkey or lean ground sirloin to lower the saturated fat. Top with reduced-fat cheese to further reduce cut the calories. You save: 100 calories and 8 grams of fat.
Pages: 1 2