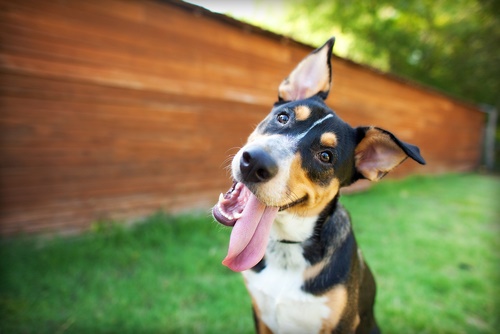 Stopping the Spread of "Dog Diseases"
Guidelines for how to avoid "dog disease" – illnesses spread by our furry friends – are now available thanks to an effort led by experts from the Ohio State University.
The advice, which appears in a user-friendly guide and in a scientific paper in the Journal of the American Veterinary Medical Association, is intended to be a tool for those in charge of canine group settings and for dog owners, said Jason Stull, a veterinarian and assistant professor of veterinary preventive medicine at Ohio State.
"When you have many dogs in a fairly confined space, the opportunities for disease transmission are everywhere," Stull said.
Stull and his co-authors want their work to lead to written infection prevention and control plans for settings where dogs congregate.
"In veterinary medicine we're probably 30 years behind in our infection control efforts compared to human medicine," he said. "But a lot of the risks really can be managed with some simple steps."
Stull and his collaborators embarked on the effort at the urging of the American Kennel Club. The researchers reviewed more than 400 academic papers related to the topic and examined published reports of outbreaks of disease in dogs.
The guidance they provide is intended to be an outline of the best possible approach to infection control, Stull said.
But what works in one setting won't necessarily be practical or possible in another and those who make use of it are expected to tailor the guidelines to their needs, he said.
Among the recommendations:
Dogs with signs of infection should be kept out of group settings.
People who touch dogs in group settings, such as handlers, staff and judges, should frequently wash their hands or use sanitizer.
Community surfaces and items should be regularly disinfected and sharing of items such as leashes, toys and bowls should be avoided.
Dogs should have up-to-date vaccinations, including against distemper, parvovirus, adenovirus, parainfluenza, Bordetella and rabies – all highly contagious diseases that can lead to severe disease and death.
Efforts should be made to keep rodents and wildlife out of areas where dogs will be, and to keep dogs out of areas most likely to include ticks, fleas and other disease-carrying pests.
Those in charge of group settings and those who participate should avail themselves of a new online risk calculator to help them determine the potential for disease spread.
Dogs should be kept clean – and cleaned up after.
Organizers of group events should avoid overcrowding of dogs.
Care should be taken with puppies and other dogs with weaker immune systems. The benefits of socialization should be weighed against the risk of illness.
Every group setting should have on-site or off-site access to a veterinarian who can help with disease-prevention guidelines.
Stull said vaccines are an excellent guard against disease spread, but many of the threats to dog health aren't vaccine-preventable and require additional thoughtful prevention.
Pages: 1 2