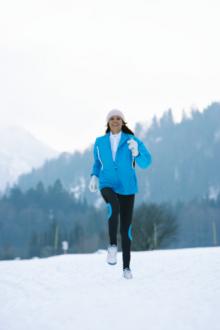 Exercise
The Superior Fat Burning Power of Cold Weather Workouts
By Joe Vennare, PT & Fitness Program Director at LeanonLife.com
When winter rolls around and temperatures begin to fall, do you shut down or layer up? Hibernating until spring might sound like a good plan — that is, until cabin fever sets in and extra pounds start to creep on. There's no reason to let all of the fitness gains you've made during the summer slip away.
In fact, not only should you not allow colder weather to scare you from working out outside but the chillier temperature may be the very reason to haul yourself out there to get more fit and lose more weight than you ever have before. Research suggests that cold weather workouts could boost your endurance and increase the benefits of your fitness workout.
3 Weight Dropping Advantages to Dropping Temperatures:
1) Boost the burn.Since you're exercising, you're obviously burning more calories than you would if you were just lounging around. But, when you exercise in cold weather, you burn even more calories than usual. Your body has to try even harder to stay warm. As it does, your calorie burn goes up.
2) Be cool.When the U.S. Army studied marathon times, they found a correlation between temperatures and performance. As temperatures went up, performance went down. As it turns out, the ideal marathon temperature is less than 5 degrees Celsius (or 41 degrees Fahrenheit).
3) Breathe in. Running in the cold can also make you faster. That was the conclusion reached by researchers at the Northern Arizona University. The cold air in your lungs improves your VO2 Max, which helps you use oxygen more efficiently and provides the best measure of overall fitness level.
Your Guide to Effective Cold Weather Fitness Workouts:
Dress up. Cold weather calls for appropriate, safe attire for your winter fitness workout. Remember to dress in layers and avoid cotton when possible. Look for breathable base layer tops and bottoms that wick moisture. Your outerwear should be waterproof to repel moisture. Choose mid-layers that are fleece, wool, down, or a breathable synthetic. Cover up your toes with ski-specific or wool socks. Top off your outfit with a warm beanie, neck gaiter, ski mask (sometimes called a balaclava), and gloves. Don't forget to pick-up a pair of ski-specific or wool socks to prevent frozen toes.
Get Warm. What you wear will keep your body warm, but you have to warm up your muscles too. After you're dressed, try warming up indoors first, before setting out into the cold. Then, once you're outside, start slowly. Ease into your training, priming your muscles for the workout.
Pages: 1 2