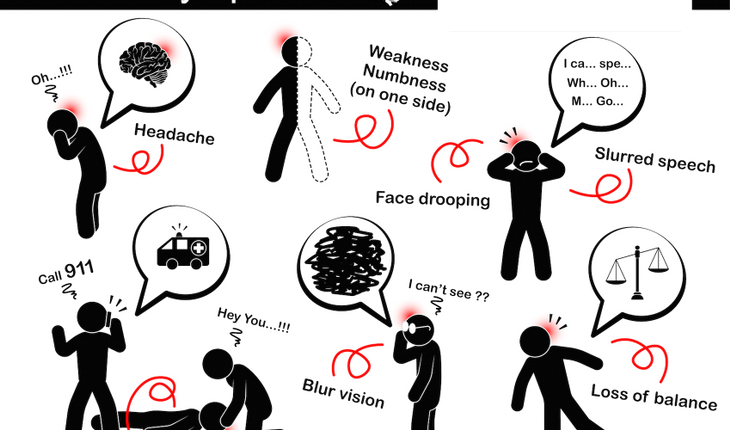 Stroke
Survey Finds 73% of Those Under 45 Are Unaware of Stroke Symptoms
ThirdAGERS, alert your younger loved ones and friends to this important finding! A 2016 national survey by Ronald Reagan UCLA Medical Center in Los Angeles showed that patients under the age of 45 may underestimate the urgency of stroke symptoms and most say they would likely delay going to the hospital for help. Yet the initital three hours after a person experiences the first symptom of a stroke is often referred to as the "golden window." That's the period of time doctors say is crucial for patients to get to a hospital to receive medical care in order to restore blood flow to the brain and minimize or reverse damage.
A release from the center quotes David Liebeskind, MD, professor of neurology, Director of Outpatient Stroke and Neurovascular Programs and Director of the Neurovascular Imaging Research Core at Ronald Reagan UCLA Medical Center, as saying, "Timely treatment for stroke is probably more important than for almost any other medical problem there is. There is a very limited window in which to start treatment because the brain is very sensitive to a lack of blood flow or to bleeding, and the longer patients wait, the more devastating the consequences."
The release notes that the researchers asked more than a thousand people nationwide what they would be likely to do within the first three hours of experiencing weakness, numbness, difficulty speaking or difficulty seeing, all common symptoms of a stroke. Among those under age 45, only about one out of three said they would be very likely to go to the hospital. A staggering 73 percent said they would likely wait to see if their symptoms improved.
"That's a real problem," said Liebeskind. "We need to educate younger people about the symptoms of stroke and convince them of the urgency of the situation, because the numbers are going up."
In fact, since the mid-1990's, the number of young adults between 18-45 discharged from U.S. hospitals after suffering a stroke has jumped as much as 53 percent. It's estimated someone has a stroke about every 40 seconds in the U.S., totaling nearly 800,000 new stroke patients a year.
In 2007, Jennifer Reilly was one of them. "I woke up in the middle of the night with an excruciating headache," said Reilly. "I was 27 years old, pretty active, pretty healthy and was not prone to headaches. I thought it was a really odd thing that happened."
After arriving at work that day, Reilly shared her story with a co-worker who insisted she go to the hospital immediately. Reilly eventually ended up at Ronald Reagan UCLA Medical Center where Liebeskind told her she'd had a stroke. "I was really skeptical," said Reilly. "I didn't have any of what I thought were the classic symptoms of a stroke, nor did I fit the classic description of a stroke patient. I was 27 and healthy."
Pages: 1 2