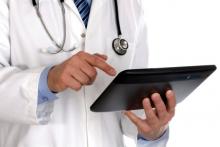 Telemedicine Linked to Fewer Hospitalizations
If doctors are not present but use "telemedicine" for nursing-home patients, they will avoid unnecessary hospitalizations and save health-care money, according to research from the Dartmouth Institute.
The institute has as its goal the reduction of health-care costs.
Hospitalizations of nursing-home patients are occurring more frequently, and that leads to higher Medicare costs. It also is linked with complications and death.
When a medical issue arises on nights and weekends, an on-call doctor can either travel to the nursing home or recommend a visit to the emergency room. Often, according to a release from the Institute, he or she chooses to recommend a visit to the emergency room.
The latest Dartmouth study in cost-cutting, conducted by researchers David C. Grabowski of Harvard Medical School and A. James O'Malley of The Dartmouth Institute for Health Policy & Clinical Practice at the Geisel School of Medicine. analyzed whether nursing-home patients who get off-hour physician coverage by telemedicine have a lower rate of hospitalization.
Grabowski and O'Malley looked at a for-profit nursing-home chain in Massachusetts that had signed a contract with a "telemedicine provider" for service to 11 nursing homes. Six of the 11 nursing homes in the chain were randomized to initiate the telemedicine service while the five remaining nursing homes served as the control group. The telemedicine service consisted of two-way video conferencing with a high-resolution camera, allowing nursing home residents to be examined remotely by a physician.
Four of the six facilities, the researchers found, were responsible for most of the telemedicine calls. Across all calls, the rate of hospitalizations declined 5.3 percent for the control group and 9.7 percent for the treatment group. This effect was largely concentrated in the four "more engaged" nursing homes, whose rate of hospitalization declined 11.3 percent.
"According to these estimates, a nursing home that typically had 180 hospitalizations per year and that was more engaged with telemedicine could expect to see a statistically significant reduction of about 15.1 hospitalizations per year" than a facility that was less engaged, the researchers said. The average Medicare savings would be roughly $150,000 per nursing home per year.
But the researchers also said that despite the savings, the telemedicine system may not become widely used under current health-care reimbursement regulations: Currently, the facility pays for the telemedicine, while Medicare gets the savings realized through telemedicine.
."Until adoption of these innovative payment and financing models increases, we do not believe that the business case for telemedicine services in nursing homes is a strong one, especially in those nursing homes caring predominantly for Medicaid residents," the researchers said.
The study was published in the journal Health Affairs.
Pages: 1 2