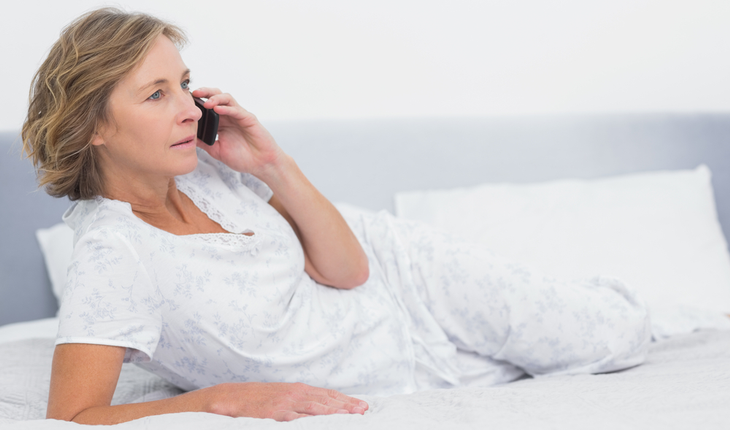 Menopause
Telephone Therapy Eases Menopause Symptoms
Chatting on the phone with a "sleep coach" and keeping a nightly sleep diary significantly improve sleep quality and reduce insomnia in women through all stages of menopause, according to a study done at Fred Hutchinson Cancer Research Center in Seattle and published May 23rd 2016 in JAMA Internal Medicine.
A release from the center reported that the study also found that such phone-based cognitive behavioral therapy significantly reduced the degree to which hot flashes, or vasomotor symptoms, interfered with daily functioning.
This is good news for women who do not want to use sleeping pills or hormonal therapies to treat menopause-related insomnia and hot flashes, according to paper co-author Dr. Katherine Guthrie, a member of the Public Health Sciences and Clinical Research divisions at Fred Hutchinson Cancer Research Center.
The release quotes Guthrie as saying, "Most women experience nighttime hot flashes and problems sleeping at some point during the menopause transition. Poor sleep leads to daytime fatigue, negative mood and reduced daytime productivity. When sleep problems become chronic — as they often do — there are also a host of negative physical consequences, including increased risk for weight gain, diabetes and cardiovascular disease. Many women do not want to use sleeping medications or hormonal therapies to treat their sleep problems because of concerns about side-effect risks. For these reasons, having effective, non-pharmacological options to offer them is important."
The research, believed to be the first and the largest study to show that cognitive behavioral therapy for insomnia helps healthy women with hot flashes to sleep better, was conducted via MsFLASH, a research network funded by the National Institute on Aging that conducts randomized clinical trials focused on relieving the most common, bothersome symptoms of menopause. Guthrie serves as principal investigator of the Fred Hutch-based MsFLASH Data Coordinating Center.
The clinical trial involved more than 100 Seattle-area women (between 40 and 65 years of age) with moderate insomnia who experienced at least two hot flashes a day. All of the women were asked to keep diaries to document their sleep patterns throughout the study and rated the quantity, frequency and severity of their hot flashes at the beginning of the study, at eight weeks and at 24 weeks.
Half of the women were selected at random to take part in a cognitive behavioral therapy intervention that involved talking with a sleep coach for less than 30 minutes six times over eight weeks. Importantly, non-sleep specialists (a social worker and a psychologist) delivered the therapy. Before conducting the phone sessions they underwent a day of training in cognitive behavioral therapy techniques.