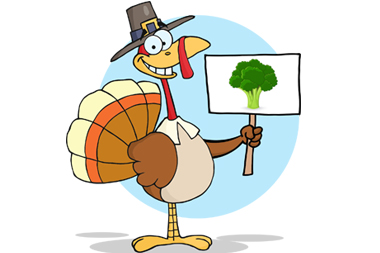 Healthy recipes
Thanksliving Recipes Your Family Will LOVE!
You may be wondering if there's a typo in the title of this article – there's not J So what is Thanksliving? Here's how we see it: an opportunity to give thanks by letting beings live – and focusing our gratitude on being with one another, reflecting on what we are grateful for in our lives. Research shows that people who practice grateful thinking reap emotion, physical, and psychological benefits – and what better act of gratitude than appreciating all the wondrous species that cohabitate the planet Earth?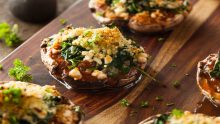 Herbed Spinach Quiche Portabella Caps
Here's a clever twist on quiche – scrap the high fat and high carb pastry for meaty portabella mushroom caps to make tasty individual quiches. Makes a fabulous main dish for Thanksliving.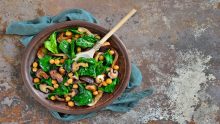 Sautéed Spinach, Mushroom + Chickpea Bowl
Sautéed veggies simmered with chickpeas, mushrooms, and wilted spinach make up this colorful dish. While this recipes calls for chickpeas and spinach, any combination of "beans and greens" will work. A colorful addition to any holiday table!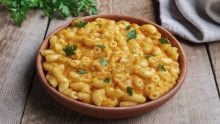 Pumpkin "Cheese" Sauce With Quinoa Pasta
Mac-n-cheese without the cheese? YES! This recipe deliciously nails a creamy, non-dairy cheese sauce. The secret is the blend of mustard with nutritional yeast – a potent and powerful flavor union! A perfect substitute for a Thanksgiving classic – and good for you too!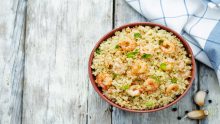 Fabulous twist on risotto – this quinoa-centered dish highlights the flavor of the shrimp and kale – and packs a serious protein punch! It's also low calorie – so enjoy this tasty + nutritious indulgence guilt-free! If vegetarian, just sub the fish broth for veggie broth, and voilá! Pares well with the Herbed Spinach Quiche Portabella Caps.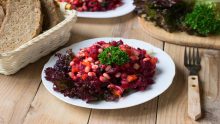 Colorful, antioxidant-packed, and delicious – this salad will look good on your table, and power up your day! Make your Thanksliving table as colorful as the foliage outside with this beautiful dish.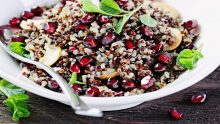 We love the aroma of this recipe – the cumin and turmeric lend an Indian flavor, while the paprika hearkens to romantic Budapest nights. A perfect complement to our Sautéed Spinach, Mushroom + Chickpea Bowl.
Love chicken salad – but don't eat meat? We've got you covered! This is our delicious plant-based twist on an American classic – sure to please all your holiday guests.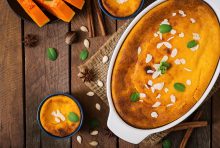 This is a perfect dessert option for pumpkin pie season! All the familiar aromatic flavors, creamy (but no dairy!), and lightly sweetened, but sans crust. Simple to make – and perfect aprés holiday dinner dessert!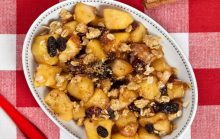 Pages: 1 2