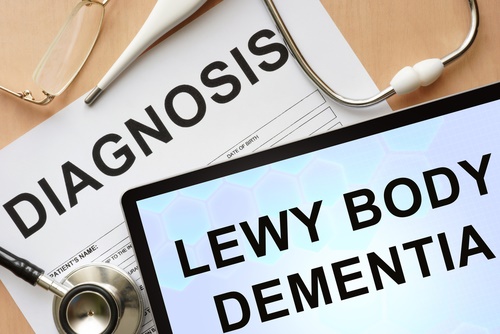 The Dementia that Isn't Alzheimer's
Non-medical people sometimes use the term Alzheimer's to describe different types of dementia, but that isn't accurate. In an article from the Mayo News Network, Dr. Neill Graff-Radford, Neurology, Mayo Clinic, Jacksonville, Florida, explains the difference between Alzheimer's and another kind of dementia called Lewy body dementia:
Doctors diagnose Lewy body dementia based on the range of symptoms a person shows. Generally, a Lewy body dementia diagnosis requires an ongoing decline in thinking skills, along with two of the following: visual hallucinations, Parkinsonism (click here for more information on Parkinsonism) or fluctuating alertness. In addition, people who have Lewy body dementia also may experience a sleep condition known as REM sleep behavior disorder, in which people act out their dreams while they sleep. They also may have instability in their blood pressure and heart rate, and the body may have difficulty controlling temperature and sweating.
A brain disease that gets worse over time, Lewy body dementia is caused by an abnormal protein, called synuclein, which is deposited in certain nerve cells and nerve processes. These deposits are called Lewy bodies — named after the physician who first identified them. In Lewy body dementia, Lewy bodies are found in the deep structures of the brain that control movement, as well as in the middle and outer structures involved in emotion, behavior, judgment and awareness.
Many patients with Lewy body dementia also have overlapping Alzheimer's disease. About half of Lewy body dementia patients have significant Alzheimer's disease, as well. Thus, it is not surprising that those diagnosed with Lewy body dementia have symptoms associated with Alzheimer disease, such as memory loss and naming difficulty. However, when doctors who have expertise and experience with the disease make a Lewy body dementia diagnosis, that diagnosis is often correct — as confirmed later during an autopsy. An accurate diagnosis is important, because Lewy body dementia responds differently than Alzheimer's disease to commonly prescribed dementia medications.
Lewy body dementia usually progresses gradually over several years, but the way it progresses can vary significantly from person to person. For example, Lewy body dementia may begin with signs of dementia, and Parkinsonism appears later. Or the disease may start with movement difficulties, and signs of dementia don't emerge for some time. Most people with Lewy body dementia experience the onset of Parkinsonism and dementia within one year. As Lewy body dementia progresses, all symptoms usually become more severe.
Pages: 1 2