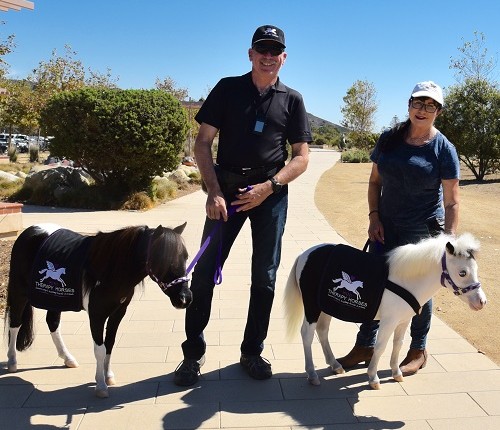 The Mini Horses that Heal
"We were at an event in San Pedro and a man whose son suffers from multiple disabilities – the boy doesn't speak, he's not mobile, he has to be strapped into his chair. In the midst of all this commotion my miniature horse Liberty Belle noticed the boy and she went right up to him. She brought her head to his.
"They immediately went into their own private world. Belle, as we call her, knew what this child needed. I wasn't holding her. The child pressed his face right next to hers and she never moved her head. Gradually, all around us, people stopped talking. Everyone was mesmerized. The connection between this child and this horse transcended everything else happening close by. They stayed like that a long time. I was so proud of Belle. To witness the total healing connection between a person and these little horses is so unique, so profound. This is what I live for."
These are the words of Victoria Nodiff-Netanel , founder of Mini Therapy Horses (www.minitherapyhorses.com), a non-profit, all volunteer organization based in southern California in the hills of Malibu. (That's Victoria, above, with Steve Sullivan, vice president and co-founder, and two of the magical minis: Black Pearl, left, and Blue Moon, right.) Through partnerships with law enforcement agencies as well as children's and veteran's organizations including Ronald McDonald House, the Greater Los Angeles Veterans Hospital, the Los Angeles County Sheriff's Department, and the Los Angeles Mayor's Crisis Response team, Mini Therapy Horses are certified first responders providing equine-assisted interactions to people and groups in need of comfort and relief.
After a single encounter with a tiny horse, human beings of all ages have smiled and spoken for the first time after their traumatic experience.
"We visit people in need and crisis outside of our core programming, such as patients in ICU, at-risk youth, people with disabilities, rape victims, and children at orphanages," Victoria says. "It's always about the horse and helping the person make the connection with the horse. They help many people and provide them with hope."
She's been doing this work for eight years. Her band of mini horses – Black Pearl, Willow Blue, Liberty Belle, American Valor, Blue Moon, Sweet Louise, and Bluebell – are highly trained for their work. They are small but mighty, between 27" and 29 inches at the withers. That means they're much smaller than dogs like, say, a Great Dane.
"My horses are little princes and princesses," says Victoria, a veteran horsewoman. "They are very loved and respected. Working in collaboration with the horse, we make ourselves emotionally available in every way to the person. It's about opening our hearts and helping the person make a connection with the horse."
Pages: 1 2