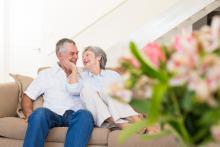 Aging Well
There's No Place Like Home – For Growing Old
"The stairs are getting so hard to climb."
"Since my wife died, I just open a can of soup for dinner."
"I've lived here 40 years. No other place will seem like home."
These are common issues for older people. And, you may share the often-heard wish—"I want to stay in my own home!" The good news is that with the right help you might be able to do just that.
As part of the Federal Government's National Institutes of Health, the National Institute on Aging (NIA) funds and conducts research related to aging, including how older people can remain independent. This NIA tip sheet introduces you to the kinds of help that you might want to consider so you can continue to live on your own. Where possible, we give you suggestions for free or low-cost help and include ways to identify benefits that might be available to you. A list of groups to contact for more detailed information is included at the end of the tip sheet. You can share this tip sheet with others in your family, and you can use it to begin talking about your needs—now and in the future.
What do I do first?
Planning ahead is hard because you never know how your needs might change. But, the first step is to think about the kinds of help you might want in the near future. Maybe you live alone, so there is no one living in your home who is available to help you. Maybe you don't need help right now, but you live with a husband or wife who does. Everyone has a different situation, but one way to begin planning is to look at any illnesses like diabetes or emphysema that you or your spouse might have. Talk to your doctor about how these health problems could make it hard for someone to get around or take care of him- or herself in the future. Help getting dressed in the morning, fixing a meal, or remembering to take medicine may be all you need to stay in your own home.
How can I help my older relatives stay independent?
As they grow older, some people start having trouble doing everyday activities like shopping, cooking, and taking care of their home or themselves. Is this happening to any of your relatives—our parents or an aunt or uncle, for example? If so, talk to them about getting help. Maybe you can offer to get information for them. Think about what you and others in the family can do to help. Talk to your friends whose relatives may be facing the same kinds of problems. Ask about the solutions they found. Then let your relatives know what you have learned. You might be able to help them develop a plan.
What kinds of help can I get?
You can get almost any type of help you want in your home—often for a cost. The following list includes some common things people need. You can get more information on many of these services from your local Area Agency on Aging, local and State offices on aging or social services, tribal organization, or nearby senior center.