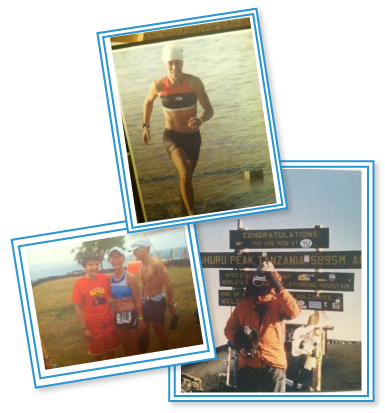 Exercise
ThirdAge Health Close-Up: Becoming a Triathlete at 50 After Surviving a Devastating Auto Accident
There followed tri-weekly acupuncture and physical therapy. The latter treatment began with neck stretches to relieve nerve pressure, and gradually moved to exercises with a resistance band, then weights, strength training, and other modalities including reflexology and chiropractic.
Maureen says fervently, "My goal was always to reach 100 percent of where I'd been before the accident. I was determined to run marathons."
She did indeed return to sports – with a vengeance. Five years after being hit by the bus she had climbed Mt. Kilimanjaro, run the Boston Marathon, and completed her first Ironman! These feats weren't accomplished pain free, however. "For instance I had a lot of neck pain when I climbed Kili," Maureen says. "But I have made a lifelong commitment to smart strength training."
Now a health and fitness coach (http://maureenkemeny.com/ ), in recent years she has faced other challenges: celiac disease and adrenal fatigue. She deals with these conditions through nutrition, sleep, and probiotics. Maureen lives by the credo she teaches her clients, which is to meet adversity with determination.
"It's not necessary to get to the point of running a marathon or even one mile," she insists. Rather, Maureen's message is to trust in ourselves and in our ability to heal and persevere at any age. "As they age, a lot of people start limiting themselves and put barriers up. We need to be encouraged to get comfortable with being uncomfortable, be patient and persevere, and believe that our bodies can heal."
Pages: 1 2