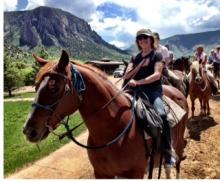 Injury Prevention & Treatment
Medical Care
ThirdAge Health Close-Up: I Fell and Dislocated My Shoulder

From the moment my left shoulder hit the carpet with a THWACK, I knew it was bad. However, I didn't immediately realize just how much of an over-achiever I was on the inane injury front.
The date was October 2nd 2013. I was at Gurney's Resort and Spa in Montauk, New York. I had just recorded a segment on Ingrid Lemme's talk show "American Dream" during which I discussed my work as a couples therapist and my book, "The Complete Marriage Counselor: Relationship-saving Advice from America's Top 50+ Couples Therapists.".
Shoulder met carpet a few moments after I left the makeshift set. Despite the searing pain, I got up and made it the few feet to the lobby but it was obvious the taxi that was waiting for me would leave sans passenger. My self-diagnosis: a dislocated shoulder. A hotel employee called 911.
During the 45-minute ambulance ride to Southampton Hospital, the two female paramedics tried to take my mind off the ceaseless, jamming pain by commenting that I was the most attractive injured person they'd ferried (courtesy of the makeup job I'd undergone a few hours earlier for the TV appearance).
Their joking helped ground me. This was an extended bad moment – not the entirety of my life. At the ER, after x-rays confirmed the dislocated shoulder, the doctor finally popped it back and gave me meds. Sweet relief!
I checked my phone. My sister had left a series of messages, Her pregnant daughter's water had broken around the time of my unfortunate carpet encounter. Brittany gave birth approximately the same moment I was eating Percocets. As I later joked, my "labor" ended in a sling; hers with an infant.
Back home, a major NYC orthopedic specialist labeled me on the mend. A week later he wrote a scrip for physical therapy, assuring me I'd need just one or two sessions. Concern set in when two days after the first session the sensation of sparks flying out of my shoulder woke me in the middle of the night.
At my next PT session I mentioned the episode, saying, "Maybe we shouldn't do this?" The physical therapist said she'd be gentle. An hour later I was in another ER with my shoulder dislocated for the second time in 10 days.
The next physician I went to, Dr. Andrew Rokito at the New York University Hospital for Joint Diseases, ordered an MRI. Together we looked over the film. I had a Bankart Lesion, an injury to a structure in the shoulder called the anterior glenoid labrum. The labral tears rendered my shoulder unstable and susceptible to repeated dislocations.
My hopes for a non-surgical recovery were dashed but my subsequent research confirmed Dr. Rokito's advice. The surgery on January 22nd was outpatient and involved reattachment and tightening of the torn labrum and ligaments using sutures and bone anchors.
Pages: 1 2