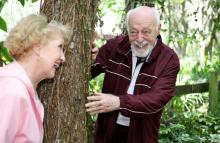 Sex
Tips to Spring Clean Your Relationship
Winter weather is behind us and the signs of spring are everywhere: temperatures rising, buds budding, birds chirping, and bees buzzing. Now's the time to spring-clean our homes—and also our relationships.
"Whether you're in a new relationship…or feel like you've been together forever, it's time to take a step back and assess what's working and what's not," says Madeleine Castellanos, MD, Manhattan relationship guru and sex therapist. "If something isn't working, and you're feeling less than connected to your partner you might try some simple refresher tips to help bring you and your partner closer together," she advises. Below are some insightful tips from Dr. Castellanos to spring clean your relationship and restore the sparks of passion. After all, spring is the season of Amore…and love is in the air!
*Find new interests together. Maybe you don't do enough fun stuff together any more. Or maybe your outings have fallen into a rut. Take some time and find new activities a deux—a sport or a hobby like Argentine Tango, square dancing, or golf. Sometimes just making a simple choice for a regular "date night" can inspire new closeness.
*Set aside time to fantasize. Share your fantasies with your partner or keep them to yourself. Bottom line: fantasizing is a great way to prime the pump for your heart and passion to soar. Don't be afraid to push the envelope a little! There's no judgment in the world of imagination.
*Listen to your partner's wants, needs and desires. You don't have to fulfill all of them, but you do need to listen. Also, feel free to whisper sweet, spicy messages that you don't usually say out loud. The ears are located close to the brain for a reason—so use that pathway to flip the "turn on" switch in your partner's brain!
*Spring clean your bedroom routine. Stuck with the same-old/same-old between the sheets? Try something new, such as sexy lingerie. Also, opt for aromatherapy massage and bath oils. Click here for one good source of these pleasure enhancers.
*Find fresh adventures together. Spring is the perfect time to celebrate love. Pack your weekend get-away bag and don't forget to bring some romantic gifts, gastronomic delicacies, a condom-compatible lubricant that is long-lasting that never dries upor gets sticky. (Remember, even if you no longer need birth control be cause you're post-menopausal, you do need protection from STDS – especially if you're in a new relationship.) Also tuck in a copy of Getaway Guide to the Great Sex Weekend by Dr. Pepper Schwartz. Also, take along Dr. Lauren Streicher's newly published Love Sex Again!
Pages: 1 2