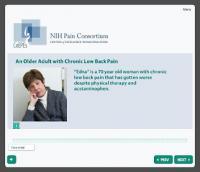 Pain Management
Virtual Chronic Pain Patient Boosts Docs' Skills
An online training module using "Edna", a virtual elderly woman with chronic lower back pain as a case study, greatly improved medical student clinical skills. That's the finding of a study done at the University of Pittsburgh and published in the May 2014 issue Journal of the American Geriatrics Society. The module is the first curriculum resource created through the efforts of the National Institutes of Health Pain Consortium's Centers of Excellence in Pain Education program (CoEPEs). The program was developed in response to the Affordable Care Act's mandate to advance the science, research, care and education of pain. One of the goals is to reduce patients' reliance on opioids and other painkillers.
The CoEPEs are creating and testing online, case-based pain education modules for use in their own teaching institutions. Edna and several other modules will be made available to other teaching institutions beginning in the fall of 2014 at NIH Pain Consortium. These modules are also accessible by the general public to help them learn how to discuss chronic pain with their doctors. A preview of the module is available at An Older Adult With Chronic Low Back Pain.
A release from NIH quotes Josephine P. Briggs, M.D., director of the NIH's National Center for Complementary and Alternative Medicine (NCCAM) and member of the NIH Pain Consortium Executive Committee as saying, "Management of chronic lower back pain is one of the most common and difficult problems that patients and health care providers face. The educational materials that have been developed through this partnership will be a great asset in helping the next generation of physicians build clinical skills to support their chronic pain patients."
The CoEPEs were selected in 2012 to act as hubs for the development, evaluation, and distribution of pain management curriculum resources for medical, dental, nursing, and pharmacy schools. The NIH Pain Consortium developed the centers to improve how health care professionals are taught about pain and its treatment. The module is the first to be completed and evaluated for effectiveness.
A team of six experts in education, information technology, pain management, and geriatrics at the University of Pittsburgh developed the module, focusing on common errors in clinical exams, expert modeling, interactivity, and feedback. The module presented a standardized case of an elderly back pain patient called Edna, with brief video clips that showed her interacting with her clinician. The module also contains a multiple choice pre-test, interactive questions, and a multiple choice post-test.
Pages: 1 2