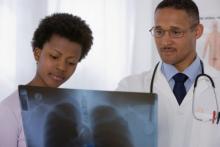 What You Need to Know About COPD
Along with lung cancer, chronic obstructive pulmonary disease, or COPD, affects a patient's very ability to breathe. COPD, which is also called emphysema or chronic bronchitis, is a progressive lung disease in which the airways of the lungs become damaged, making it hard to breathe. COPD is also known as emphysema or chronic bronchitis.
According to the National Institutes of Health, COPD is a major cause of death and illness worldwide. In the U.S., it kills more than 120,000 Americans every year, or one every four minutes.
But although there's no cure for it, but treatments and lifestyle changes can help manage symptoms. The NIH program SeniorHealth offers the following tips if you or a loved one have been diagnosed with COPD.
Lifestyle Changes
Quitting Smoking is the most important step you can take to treat COPD. Talk with your doctor about programs and products that can help you quit.
Many hospitals, workplaces, and community groups offer classes to help people quit smoking. Ask your family members and friends to support you in your efforts to quit. Also, try to avoid secondhand smoke and places with dust, fumes, or other toxic substances that you may inhale.
The National Cancer Institute has information on smoking cessation. Visit SmokeFree.gov and check out Clear Horizons, a quit smoking guide for adults 50+. You can also visit the website of the American Lung Association at www.lung.org or call 1-800-QUIT NOW (1-800-784-8669).
Get Enough Nutrition. If you have COPD, you may have trouble eating enough because of your symptoms, such as shortness of breath and fatigue. (This issue is more common with severe disease.) As a result, you may not get all of the calories and nutrients you need, which can worsen your symptoms and raise your risk for infections.
Talk with your doctor about following an eating plan that will meet your nutritional needs. Your doctor may suggest eating smaller, more frequent meals; resting before eating; and taking vitamins or nutritional supplements.
Don't Overlook Physical Activity. Askyour doctor about what types of activity are safe for you. You may find it hard to be active with your symptoms. However, physical activity can strengthen the muscles that help you breathe and improve your overall wellness.
Treatment
The goals of COPD treatment are to
relieve symptoms with no or minimal side effects
slow the progress of the disease
improve the ability to stay active and exercise
prevent and treat any complications from the disease
improve health overall.
Treatment for COPD can be different for each person and is based on whether symptoms are mild, moderate, or severe. Treatments include medication, pulmonary or lung rehabilitation, oxygen treatment, and surgery. There are also treatments to manage complications or a sudden onset of symptoms.