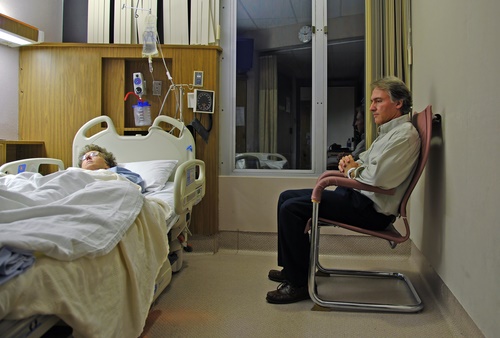 Alzheimer's Disease and other Dementias
When Hospitalization Happens to Dementia Patients
From the National Institute on Aging
A trip to the hospital with a person who has memory loss or dementia can be stressful for both of you. This outline, from experts at the National Institute on Aging (NIA), can relieve some of that stress by helping you prepare for both unexpected and planned hospital visits.
Here, you will find: steps you can take now to make hospital visits less traumatic; tips on making your relative or care partner more comfortable once you arrive at the hospital; and suggestions on how to work with hospital staff and doctors.
Hospital Emergencies: What You Can Do to Prepare
Planning ahead is key to making an unexpected or planned trip to the hospital easier for you and your care partner. Here is what you should do now:
Think about and discuss hospitalization before it happens and as the disease and associated memory loss progress.
Hospitalization is a choice. Talk about when hospice may be a better and more appropriate alternative.
Register your relative for a MedicAlert® + Alzheimer's Association Safe Return® bracelet through your local Alzheimer's Association chapter. People who are lost may be taken to an emergency room. This bracelet will speed up the process of reconnecting you with your care partner. Learn more about safety-related programs such as Project Lifesaver International (www.projectlifesaver.org).
Know who you can depend on. You need a family member or trusted friend to stay with your care partner when he or she is admitted to the emergency room or hospital. Arrange to have at least two dependable family members, neighbors, or friends you can call on to go with you or meet you at the hospital at a moment's notice so that one person can take care of the paperwork and the other can stay with your care partner.
Pack an emergency bag containing the following:
A personal information sheet, which includes:
Preferred name and language (some people may revert to native languages in late-stage Alzheimer's disease)
Contact information for doctors, key family members, clergy and helpful friends (also program into cell phone, if applicable)
Illness or medical conditions
All current medicines and dosage instructions; update whenever there is a change
Any medicines that have ever caused a bad reaction
Any allergies to medicines or foods; special diets
Need for glasses, dentures or hearing aids
Degree of impairment and amount of assistance needed for activities
Family information, living situation, major life events
Work, leisure and spiritual history
Daily schedule and patterns, self-care preferences
Favorite foods, music, and things your care partner likes to touch and see
Behaviors of concern; how your relative communicates needs and expresses emotions
Paperwork
Include copies of important documents such as:
Insurance cards (include policy numbers and pre-authorization phone numbers)
Medicaid and/or Medicare cards
Durable Power of Attorney, Health Care Power of Attorney, Living Will and/or an original DNR (do not resuscitate) order