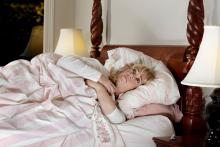 Sleep Health
Why the Elderly Have Trouble Sleeping
As people grow older, they often have difficulty falling asleep and staying asleep, and tend to awaken too early in the morning. In people with Alzheimer's disease, this common and troubling symptom of aging tends to be especially pronounced, often leading to nighttime confusion and wandering.
Now a study led by researchers at Beth Israel Deaconess Medical Center (BIDMC) and the University of Toronto/Sunnybrook Health Sciences Center helps explain why sleep becomes more fragmented with age. Reported online August 20th 2014 in the journal Brain, the findings demonstrate for the first time that a group of inhibitory neurons, the loss of which leads to sleep disruption in experimental animals, are substantially diminished among the elderly and thosewith Alzheimer's disease. This loss, in turn, is accompanied by sleep disruption.
A release from BIDMC quotes senior author Clifford B. Saper, MD, PhD as saying, "On average, a person in his 70s has about one hour less sleep per night than a person in his 20s. Sleep loss and sleep fragmentation is associated with a number of health issues, including cognitive dysfunction, increased blood pressure and vascular disease, and a tendency to develop type 2 diabetes. It now appears that loss of these neurons may be contributing to these various disorders as people age."
In 1996, the Saper lab first discovered that the ventrolateral preoptic nucleus, a key cell group of inhibitory neurons, was functioning as a "sleep switch" in rats, turning off the brain's arousal systems to enable animals to fall asleep. "Our experiments in animals showed that loss of these neurons produced profound insomnia, with animals sleeping only about 50 percent as much as normal and their remaining sleep being fragmented and disrupted," he explains.
A group of cells in the human brain, the intermediate nucleus, is located in a similar location and has the same inhibitory neurotransmitter, galanin, as the vetrolateral preoptic nucleus in rats. The authors hypothesized that if the intermediate nucleus was important for human sleep and was homologous to the animal's ventrolateral preoptic nucleus, then it may also similarly regulate humans' sleep-wake cycles.
In order to test this hypothesis, the investigators analyzed data from the Rush Memory and Aging Project, a community-based study of aging and dementia which began in 1997 and has been following a group of almost 1,000 subjects who entered the study as healthy 65-year-olds and are followed until their deaths, at which point their brains are donated for research.
Pages: 1 2