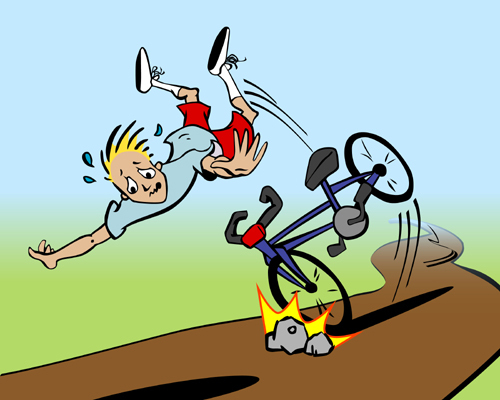 Senior Health
Why Older Adults Must Wear Helmets: Head Injuries Are Serious Trouble
Here's a dirty little secret about safety: People know they should wear helmets when riding bikes, skiing or snowboarding—but many ignore warnings and don't don helmets. Yet they're aware of known and suspected consequences of head trauma, especially for older adults.
Head injuries are a serious matter and there is growing awareness of this menace that impacts many Americans each year. Our increasing knowledge about sports-related head injuries, especially concussions due to high-impact sports such as football, hockey and boxing, has been covered extensively in the media. The Will Smith movie "Concussion" and the recent death of legendary boxer Muhammad Ali, who suffered from Parkinson's-like conditions due to repeated head blows, have made this message clearer to more people. On the radio we hear ads for Rehabilitation Hospitals offering recovery assistance for adults who suffer slip-and-fall injuries leading to traumatic brain injury (TBI).
One might think this would convince bike riders, especially older riders, to don helmets at all times, but this is not so. Each day I see adults and children wearing helmets when riding—and others who do not. Why? What possible consequences can they suffer?
An informal survey of bike riders reveals their reasons for eschewing helmets: dreaded "helmet head hair," "you lose the feeling of freedom," not "feeling the wind in my hair," it's "a throwback to the way I grew up" and didn't wear a helmet, "it makes me hot" and various other reasons. People who rent bikes by the hour, via programs such as New York City's Citibike, are not handed helmets when they take bikes at docking stations. As for skiing and snowboarding, while slopes and resorts strongly recommend participants wear correctly fitted helmets, as a whole they do not require them for adults. A New York Times article from 2013 claimed that "Ski Helmet Use Isn't Reducing Brain Injuries" in light of the serious ski injury sustained by racecar driver Michael Schumacher, who wore a helmet at the time. However, in 1998 beloved performer Sonny Bono died of an epidural hematoma after his ski accident, and he was helmet-less. Michael Kennedy also died of head trauma while skiing, as did actress Natasha Richardson in 2009, who succumbed to bleeding in her skull after a fall while skiing without a helmet. (Her untimely death scared me into wearing a ski helmet.)